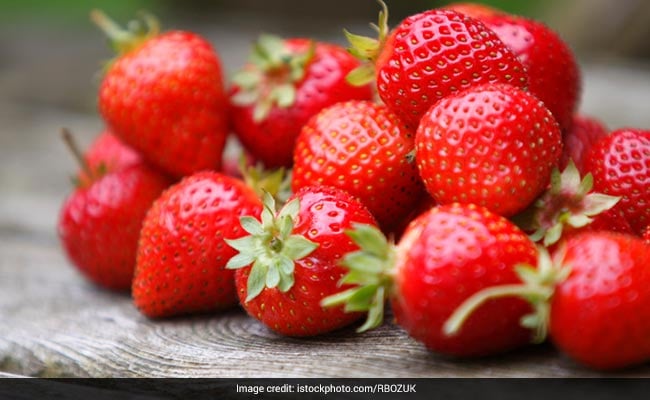 Berries are the latest entrant to superfoods; after all they have all the qualities that make them so. One of the healthiest berries is strawberry that is known to have essential nutrients that promote health. This beautiful fruit is loaded with vitamins, fibre, zero cholesterol, polyphenols, antioxidants, no fat and is a good source of potassium and magnesium. Moreover, it is one of the best sources of vitamin C that is known to boost immunity; in fact, it is said that eight strawberries have more vitamin C than one orange. Let's look at health and beauty benefits of strawberries that will convince you to add these pink-red delights in your daily diet.
Health Benefits of Strawberries
1. Helps boost immunity
Strawberries are a great source of vitamin C, they help boost immunity. It is known that about a cup of strawberries a day gives our daily requirement of vitamin C. This antioxidant also helps in the strengthening of the eye's cornea and retina.
2. Combats cholesterol
The presence of ellagic acids and flavonoids in strawberries protect hearts from bad cholesterol. Eating them regularly will ensure a healthy heart.
3. Strawberries are anti-inflammatory
For those who are prone to arthritis can benefit from eating strawberries. The antioxidants and phytochemicals present in strawberry ensure reduction of inflammation of the joints.
4. Keeps blood pressure in check
Potassium found in strawberries is known to help reduce high blood pressure. It is by balancing the effects of sodium in our system.
5. Super-rich in fibre
A well-balanced percentage of fibre in our diet is extremely important. Strawberries help regulate digestion and control and regulate type-2 diabetes, since fibre helps the blood to absorb sugar.
6. Great for skin health
Vitamin C present in strawberries help in the production of collagen in our body that contributes to the skin's elasticity.
7. They are mood boosters
Strawberries have antioxidants that help make you happy. It is not only refreshing but also super-hydrating. So toss some strawberries in your salads and cereals and ensure a happy mood through the day.
8. Strawberries may keep your memory sharp
According to a study published in the journal Annals of Neurology, eating strawberries more than twice a week has been shown to delay cognitive ageing by up to 2.5 years.


We suggest some amazingly healthy strawberry recipes that you must definitely prepare at home:
1.
Strawberry Quinoa Pancake Recipe
2.
Muesli Parfait
3.
Strawberry Amaranth Cupcakes Recipe
4.
Strawberry Banana Smoothie
Add more and more strawberries in your diet and ensure a healthy life.