India is often called the land of festivals. The next big celebration we are keenly looking forward to is that of Janmashtami. Janmashtami is one of the most widely celebrated festivals of the subcontinent, and this year, Krishna Janmashtami falls on August 24, 2019. Krishna Janmashtami marks the birth of Lord Krishna, who is believed to be the eighth incarnation of Lord Vishnu on earth. Lord Krishna was born at midnight on the 'eighth day' or the 'Ashtami' of the holy month Sharavana. On the pious day, Krishna devotees wake up early, take a bath and worship their beloved deity. There is also a common practice followed in most Indian households, of bathing 'Nand Gopal' (baby Krishna) with milk, honey and water, and dress him up in new clothes. Some devotees also observe fast on this day, which they break open only at midnight after Krishna abhishekam. Janmashtami has a fond association with food. It is a common knowledge that Lord Krishna loved good food. He was also fondly called 'makhan chor' (butter thief) for his special liking for butter. Some devotees also prepare a special 'chappan bhog' for Lord Krishna, containing 56 kinds of food items! Sweetmeat shops in Mathura and Vrindawan, at this point, are bustling with a variety of sweets that have been known to be Sri Krishna's favourite. Some devotees of Lord Krishna prepare these sweets at home with much fervour too.

Here are some traditional sweets that are an intrinsic part of Janmashtami celebrations:

1. Peda
Peda is one of the most popular offerings to Lord Krishna. Made of fresh mawa, milk, sugar, ghee and cardamom powder, pedas are slightly brown in colour and best consumed when fresh and soft. Devotees who fast on this day often include pedas as part of their post-fast meal.
2. Charnamrit/panchamrit
Charnamrit or panchamrit is a sweet and milky concoction of '5 foods', hence the name panchamrit. 'Panch' in Sanskrit means five and amrit means 'elixir'. It is made by blending together honey, liquid jaggery, milk, yogurt and ghee. The concoction is used to bathe the feet of Lord Krishna's idol, post which, it is distributed among devotees as part of prasad.
3. Dhaniya Panjiri
Think panjiri and you are reminded of the warming winter treat made with whole wheat flour and nuts. Dhaniya panjri is popularly prepared during Janmashtmi in Northern India, especially Punjab and Uttar Pradesh. It is made from coriander seed powder, bhoora (powdered sugar), ghee, chopped almonds, raisins, cashew nuts and mishri. Dhaniya panjiri is also one of the common staples in a quintessential 'chappan bhog thali'.
4. Kheer
The love affair of kheer and Indian festivals goes back centuries in time. No matter what the occasion or celebration is, a bowlful of kheer is sure to find its way. The festive favourite is made by cooking boiled rice with milk and sugar. It is flavoured with cardamom, raisins, saffron, cashews, pistachios and almonds.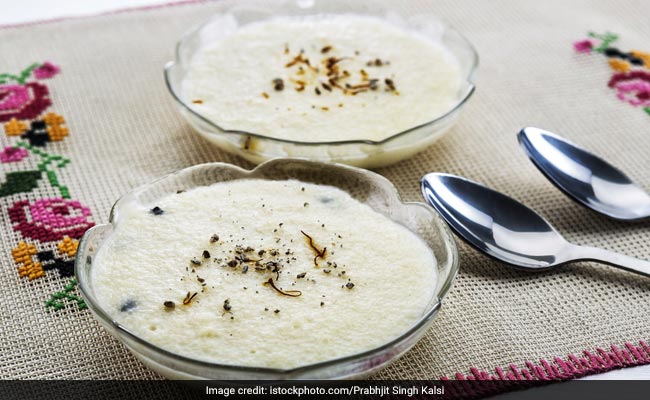 Janmashtami 2018: The love affair of kheer and Indian festivals goes back centuries in time
5. Makkhan Mishri
Little Krishna's penchant for white butter has inspired many legends and folklores in Hindu mythology. Because of this, many offerings made to Lord Krishna include white butter. Makkhan mishri is one of them. Made of unsalted milk cream and some mishri daana, this simple and sweet treat is an instant mood-lifter.
6. Rabdi
Rabdi is a creamy concoction of thickened milk, sugar and nuts with deep layers of creamy malai in it. Rabri can be enjoyed alone, or as an accompaniment to jalebis and malpua.
7. Malpua
Malpua is often touted to be India's oldest dessert. Much like kheer, malpuas are also a festive-favourite. These fried pancakes are made with a flour batter mixed with milk, and is then fried in ghee and dipped in sugar syrup.

Here's wishing you all a very happy Krishna Janmashtami 2018!