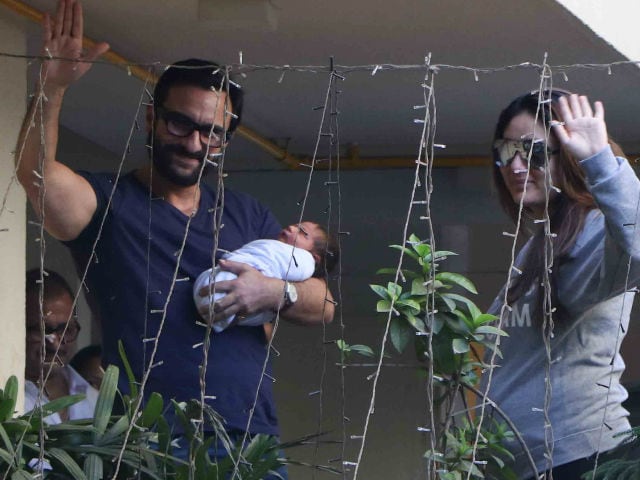 Highlights
A picture of Saif and Kareena's son Taimur is viral
The photograph wasn't release officially
Taimur Ali Khan was born on December 20
New Delhi:
The Internet is currently in raptures over what appears to be a picture of Taimur Ali Khan, the month-and-a-half old
son of actors Kareena Kapoor
and Saif Ali Khan. The photo, a close up of Baby Taimur frowning into the camera, is already viral but, since it has not been released officially, we can't confirm its veracity. Neither Saif nor Kareena are on social media. The photo is supposedly Saif's display picture on his phone. Taimur Ali Khan was born on December 20 and was pictured being taken home by his parents a few days later. Weeks ago, Saif posed with a sketch of his little son. This is the photo, purportedly of Taimur, that is currently viral:
Now, we can't confirm that the photo is real but we can tell what Saif Ali Khan said on Friday about the name he and Kareena picked for their son. Speaking on NDTV Spotlight, Saif said, "I've known a couple of people called Taimur while growing up and there was drama involved, it was
just a nice name
. It means iron and it's a strong, beautiful sounding name. Yes, I am aware there is a Mongol ruler who was possibly a little violent but I think that was the whole point really, if you want to be a conquering general you have to be a little violent. I want to say I've not named Taimur after him."
The choice of name provoked Twitter into an incandescent fury when Taimur was born. Was he named for Timur, the Central Asian conqueror who sacked Delhi in the 13th century, furious tweets wanted to know. For those quoting history in outrage, Saif Ali Khan reminded us that "one of (Timur's) most able generals was his son and his name was Shah Rukh."
Jokes apart, Saif, "I'm aware that there's a certain amount of Islamophobia in the world today and as Muslims, if we don't somehow own it then who will? I can't very well name my son Alexander and realistically can't name him Ram. So why not a nice Muslim name and bring him up with secular values so that people meeting him say 'what a nice guy' and that's the end of the name."
Watch Saif Ali Khan on the name Taimur:
Saif Ali Khan is currently promoting his film Rangoon, in which he co-stars with Kangana Ranaut and Shahid Kapoor. Kareena Kapoor was spotted walking the ramp for designer Anita Dongre at Lakme Fashion Week in Mumbai two Sundays ago.