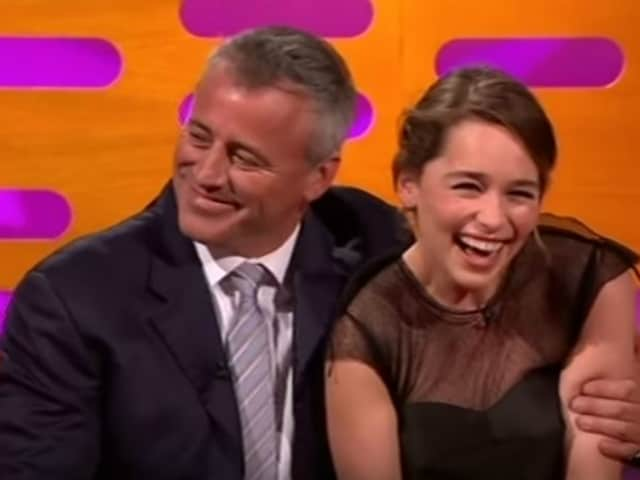 Highlights
Emilia Clarke and Matt LeBlanc met on The Graham Norton Show
Emilia is best known for playing Daenerys Targaryen on Game of Thrones
Matt LeBlanc has been roped in to co-host of auto show Top Gear
New Delhi:
Actress Emilia Clarke had a fangirl moment she is going to cherish forever, courtesy actor Matt LeBlanc on an episode of
The Graham Norton Show
aired on May 27. Meeting Joey from
F.R.I.E.N.D.S
left Emilia blushing and giggling in a most un-Khaleesi manner.
Emilia, who was seated between the
F.R.I.E.N.D.S
star and actors Kate Beckinsale and Dominic Cooper, admitted that she absolutely loves Mr LeBlanc and added: "I just think you're wicked."
Show host Graham Norton quipped: "Emilia Clarke loves Matt LeBlanc!"
When Mr Norton enquired if the
Game of Thrones
actress chatted with Mr LeBlanc backstage, she could barely form a reply, alternately mumbling and blushing. Mr LeBlanc, now 48, confessed that he doesn't really follow Emilia's
Game of Thrones
but promised his 'big fan' that he would indeed watch the show. Emilia's big moment arrived when she made a request and 'Joey' obliged.
'How you doin?,' said he. And this is what happened next:
Smooth, Daenerys, real smooth.
Emilia Clarke stars as 'mother of dragons' Daenerys Targaryen in popular fantasy series
Game of Thrones
and her upcoming films include
Me For You
and
Voice from the Stone
.
Matt LeBlanc
has now been roped in to co-host auto show Top Gear
, the new season of which begins on May 29. Mr LeBlanc starred as Joey in
F.R.I.E.N.D.S
, which ran from 1994 to 2004. He also starred in a spinoff titled
Joey
and features as a fictional version of himself on the series
Episodes
.