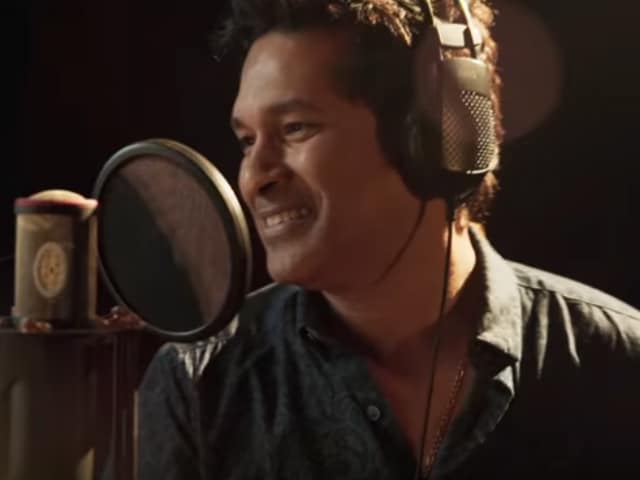 Highlights
'He is a very good singer,' said Sonu Nigam
'Surprised to see the way he was pitching right,' he added
Cricket Wali Beat was screened at Indian Idol's grand finale
New Delhi:
"
Naacho, naacho, naacho saare cricket wali beat pe
," sings Sachin Tendulkar as he makes his singing debut with Sonu Nigam. The master blaster unveiled his maiden song,
Cricket Wali Beat
, on the sets of
Indian Idol Grand Finale
on Sunday evening. However, Sachin's song has not been released on social media or YouTube yet but is available on his newly-released official app, 100MB. Composed by Shamir Tandon,
Cricket Wali Beat
has lyrics by Varun Likhate and also the composer. The song reflects the excitement of watching a live cricket match and features an animated version of the cricketer on field.
Sonu Nigam,
who was also a judge on Indian Idol 9
, accompanied the cricketer when the song was screened at the music reality show and had something to say about Sachin the 'genius': "I am glad to be part of Sachin's new innings. The song that he has sung with me is called
Cricket Waali Beat
. I was very surprised to see the way he was pitching right. That's why I believe that when God blesses someone with genius, it spills in other faculties too," IANS quoted Sonu as saying.
Sonu, who collaborated with Sachin for his singing debut, said that there was no need to technologically modify Sachin's part in the song, reported IANS. "He is a very good singer. We did not use pitch corrector on his voice as he was singing in the right sur (tone) and (despite being) the shy person that he is, he got extremely comfortable the moment I kind of increased the masti (fun) quotient while we were shooting the video. It was wonderful and I am very happy that people are loving the song," IANS quoted the singer as saying.
Here's a sneak peek of Sachin Tendulkar's song featuring Sonu Nigam:




Sonu, who appears to be a fan of Sachin Tendulkar's singing, also explained the title Sachin is popularly addressed with. "Sachin Tendulkar is a phenomenon not just for India, but for the world, especially for the world of cricket. When he is given the title of god, it's not just by chance. His whole demeanour, whole career, entire reputation and the spotless career that he has had, is the reason why he is called the God of cricket," Sonu told IANS on the side-lines of Indian Idol 9 Grand Finale.

Meanwhile, Hyderabad-based singer L V Revanth became the winner of Indian Idol 9, the grand finale of which also saw performances by comedian Sunil Grover as Dr Mashoor Gulati and Rinku Bhabi, the characters he played on The Kapil Sharma Show.