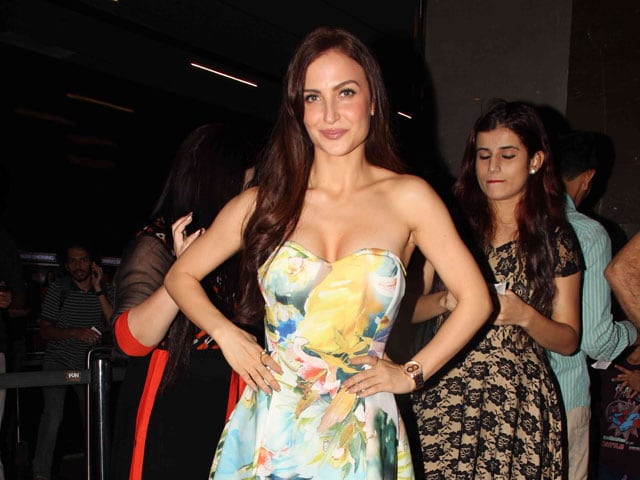 New Delhi:
Bollywood actress Elli Avram said that Bollywood is famous all over the world and has a huge fan following.
"Bollywood is famous all over the world. Not only is it recognised, but it also has a great following. In Sweden itself, Bollywood has a big fan base. There have been so many Greek adaptations of old Bollywood songs. In Stockholm, there is an Indian festival that is celebrated every year where Indian stories and culture is depicted beautifully. Bollywood has a very unique, positive and interesting image abroad," Elli told IANS.
Elli made her debut in Bollywood with 2013 film
Mickey Virus
.
The 25-year old actress also said that there has been a huge change in Bollywood in terms of acceptability of foreign talent.
"Today, the industry is accepting a lot more people who aren't of Indian origin. Compare it to the scenario about 10 years ago and you'll see a great difference. Personally, I'm really happy to see this transformation," she added.
She also said that Bollywood is a big industry which is popular in a lot of foreign countries.
"There are so many people, just like me, who connect with the Indian culture and sentiment, and would love to be a part of this field and nation," she said.
"The change in my life that I have gone through has been tremendous. This holds true for anyone who gains popularity after leading a life away from the limelight. There are a lot of little things that you need to start paying attention to; appearance and conduct being the most noticeable of them all," Elli added.
The actress also said that she has become more conscious about her health.
"Personally, I have become more conscious not only about my looks, but also my health. While I was always driven towards a healthy lifestyle, now I have become stricter about my diet and workouts," she added.
She is also taking formal lessons in Hindi to polish her language skills and improve her acting.
"Delivering dialogues become very difficult without having a proper understanding of Hindi. In order to get the right emotions, you not only need to know what you're saying but understand it too," she said.
Elli has featured in Abbas-Mustan's film
Kis Kisko Pyaar Karoon
, co-starring Kapil Sharma.
Regarding the film, Elli said: "It has a suspense element to it which makes the story interesting, but it is primarily focused at making people laugh."
Regarding her co-star Kapil, she said: "When he is on the set, you'll find him joking and laughing which helps in giving a relaxed vibe even at work. If you're feeling uncomfortable he'll do something funny to make you comfortable," she added.(Also Read:
Elli Avram: Kapil Sharma Made Me Laugh All the Way
)
Kis Kisko Pyaar Karoon
released on September 25.