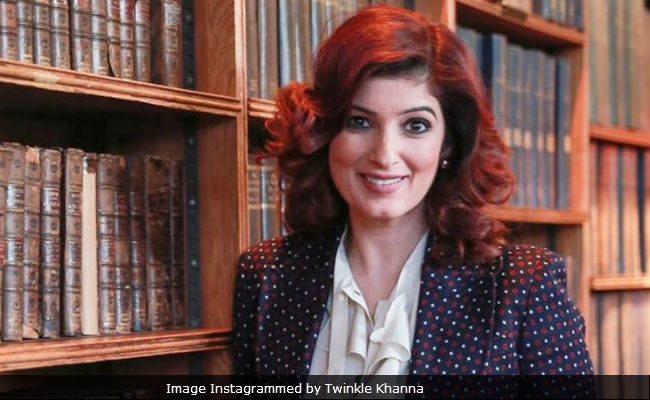 Highlights
Twinkle Khanna spoke about PadMan at Oxford Union
Twinkle highlighted period taboos and period poverty
PadMan will hit the screens on February 9
New Delhi:
Author and producer Twinkle Khanna's full speech on
PadMan
and menstrual hygiene, delivered on January 18 at Oxford Union, is now online. Twinkle spoke about what she calls 'period poverty,' taboos about menstruation, and how meeting Arunachalam Murugunantham, inventor of a low-cost method of making sanitary napkins, inspired her to make
PadMan
, starring her husband Akshay Kumar in the lead role. Twinkle conceptualised and produced the film under her banner MrsFunnyBones.
PadMan
is directed by R Balki and
co-stars actresses Sonam Kapoor
and Radhika Apte.
"Muruganantham is not only the first man to wear a sanitary pad but he's also a man who barely speaks English and he went from being a drop out to an innovator. To me he was an example that intelligence is not constrained within the boundaries of any particular language or even a formal mechanism of education. And I was fascinated with that," said Twinkle Khanna.
Here are 10 things that Twinkle highlighted about period taboos and period poverty in her speech at Oxford Union.
"Muruganantham tested the pad himself. He constructed an artificial womb of socks, took a rubber bladder and filled it with pig's blood. Put on a sanitary pad and pulled his pants up. His wife got fed up with his obsession with pads and divorced him but he persevered and later made low cost sanitary pad making machines."
"My primary motivation in making
PadMan
was to bring light to a subject that, like Voldemort, is not mentioned."
"Only 12 percent women in our country can afford sanitary pads. The rest use rags, leaves, which leave to cervical cancer. There's a 12 percent tax on sanitary pads in India but brooms are tax free because apparently it's more important to keep your house clean."
"
PadMan
is not just a film, it's a movement. I hope now women will not be held back or embarrassed by their biology."
"We had initially planned to call our film 'iPad,' but we didn't because of a biblical precedent - Adam messed with 'an Apple' and look what happened to him. We didn't want that to happen to us."
"Mothers have to lead by example for their children. There should be no forbidden territory. You should talk about menstruation with your sons."
"I would not give all the profits of my film to the charity. If I do so, people would not make any movie based on content again and that would be a shame."
"Like Muruganantham and the other pad fellow Steve Jobs, I too am a drop out."
"Young girls can gain strength from vulnerability by - a) learning from what your mother did b) learning from what she didn't do."
"The more open girls are about menstruation, the easier life will become."
Watch Twinkle Khanna's full speech at Oxford Union here.
Twinkle also revealed that
PadMan
is the first movie to be showcased at the Oxford Union.
The trailer of
PadMan
presents Akshay Kumar, in the role of Murugunantham, as a superhero of sorts whose lightbulb moment is prompted by his wife's use of newspaper and rags in her menstrual cycle.
PadMan
will release on February 9, two weeks later than it was originally meant to. In a separate superhero move,
Akshay pushed his film on request of "Padmaavat" director Sanjay Leela Bhansali
. The embattled "
Padmaavat
" was finally cleared for release in January amid violent opposition to the film and booked January 25, a date already taken by Akshay and Twinkle. In an unprecedented show of solidarity, Akshay moved his film, saying it was more important for "
Padmaavat
" to release.