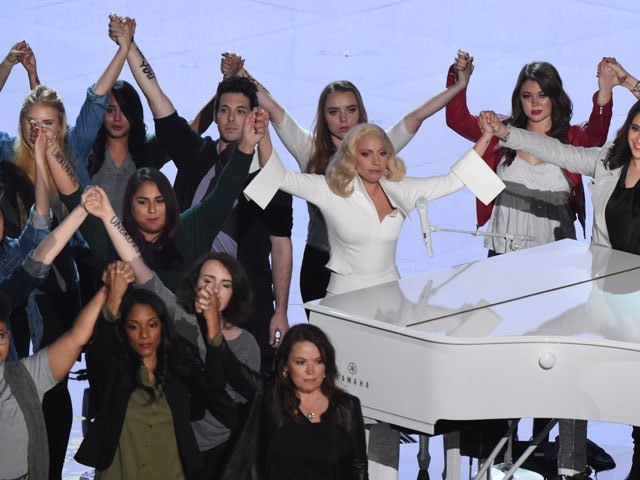 New Delhi:
Yes, Leonardo DiCaprio finally got his Best Actor prize which means that we can all get a life now but there was a lot more to the Oscars than one
Titanic
-sized win. Don't take our word for it, the evidence is presented below.
Lady Gaga, Joe Biden and Rape Survivors Rise up
Possibly the most powerful and emotive Oscar moment ever came in the form of Lady Gaga's performance of '
Til it Happens to You
from the documentary
Hunting Ground
. Her back-up squad - survivors of sexual assault, who raised forearms emblazoned with words like 'Unbreakable' and 'Not your fault.' Gaga, who has revealed she was raped at 19, was introduced by US Vice President Joe Biden, who was prompted by a standing ovation to quip, "I'm the least qualified here tonight."
In Case You Forgot, Chris Rock Reminds You That #OscarsSoWhite
Hosting for the second time, Chris Rock's opening monologue was stuffed with references to the Oscar whiteout that caused Will and Jada Smith to boycott the show. Exhibit A - "Thank god they don't nominate the host otherwise you'd be watching Neil Patrick Harris." Exhibit B - "If you want black people every year at the Oscars, just have black categories like Best Black Friend." Exhibit C - "You want diversity? We got diversity. Please welcome Emily Blunt and somebody whiter, Charlize Theron."
There was plenty more where that came from.
Jack and Rose Still Love Each Other and Our Hearts Will go on
What hope is there for the rest of us in the real world if Jack and Rose couldn't even be together for reel, right? Luckily, they still adore each there despite Rose having allowed Jack to drown in 1997's
Titanic
and for Leonardo DiCaprio and Kate Winslet, it was an evening of hugs, joy and warm, fuzzy moments.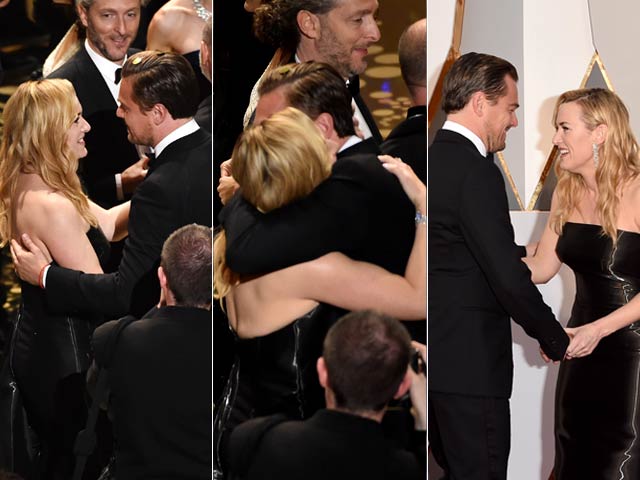 Everyone during Leo's #Oscars acceptance speech: pic.twitter.com/kt0oNfCz2K

— Niv Dror (@Nivo0o0) February 29, 2016
A Hug That Warmed the World
The only thing more heartwarming than seeing Brie Larson win Best Actress was watching her envelope Jacob Tremblay, the nine-year-old actor who played her son in
Room
, in a hug that felt like it encompassed the audience. "My partner through this," said Brie after she had high-fived her young co-star.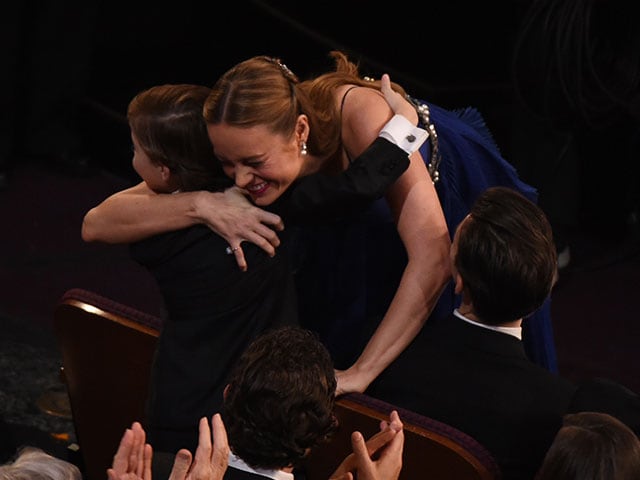 Cookies
It wasn't quite cookies from Cookie Lyon herself but the Oscar crowd can take the moral high ground over the Golden Globes - they raised over $65,000 after Chris Rock's daughters Zahra and Lola led a troop of Girl Scouts into the audience and sold cookies. Their dad shouted encouragement - "Leo, you made $30 million, come on." Leo wasn't the only who stumped up the cash - Christian Bale, Matt Damon, Charlize Theron and lots others in the room were spotted munching away. On Twitter, Chris Rock claimed Joe Biden gave him $20 for cookies.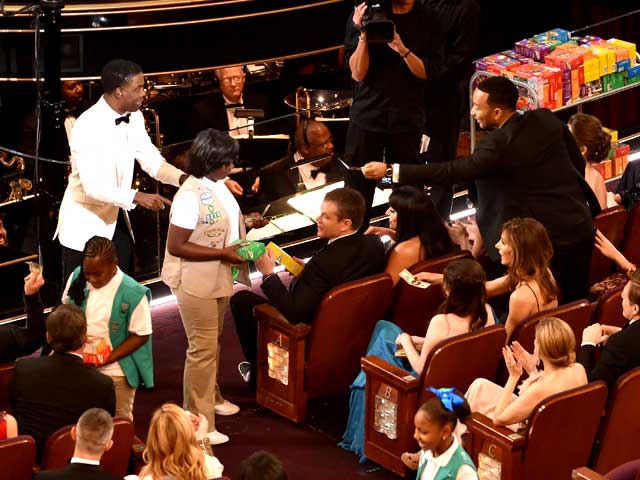 The Long and the Short of it
Jacob Tremblay came just halfway up the microphone when he came out to present the award for Best Live Action Short. That was easily remedied by Chris Rock who ran out with a crate for the nine-year-old to stand on - and a plank for Jacob's co-presenter Abraham Attah who, at almost 15, was less vertically challenged.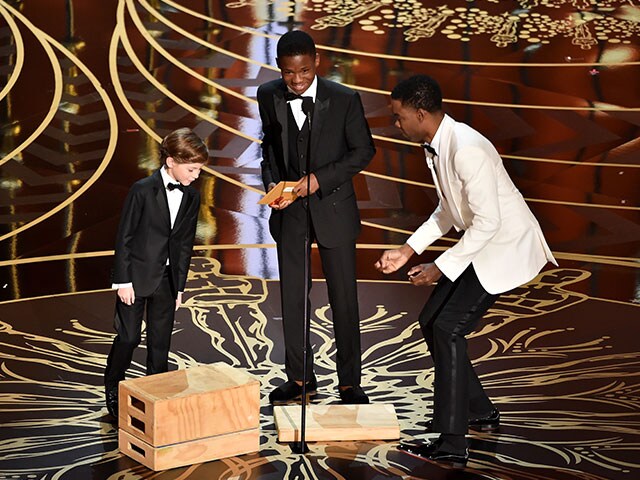 The Force Was Strong in a Droid-ful Show
C-3PO, R2-D2 and BB-8 gatecrashed the Oscar ceremony - much to the delight of everyone present (especially young Jacob who stood up to get a better look) - to honor
Star Wars
composer John Williams, who received his 50th Oscar nomination. "He has already won five Oscars for composing," droned C-3PO. "No wonder he has a good seat."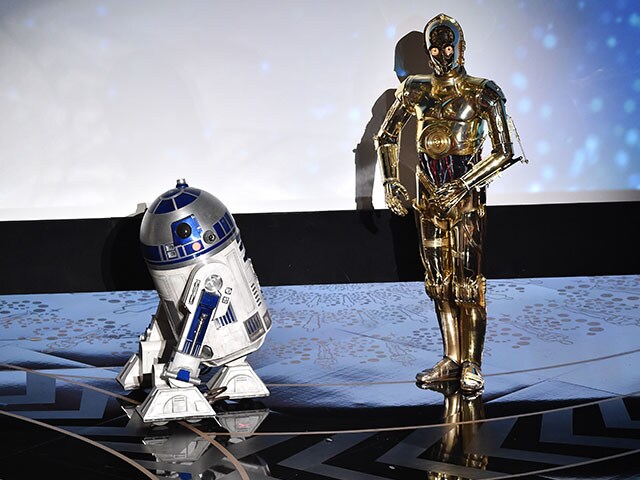 In Memoriam, to Blackbird Sung by Dave Grohl
From Saeed Jaffrey and Alan Rickman to David Bowie and Leonard Nimoy, the Academy honoured those they had lost in the past year with a montage. The soundtrack - Dave Grohl with a guitar singing a soulful rendition the The Beatles' song
Blackbird
- made many hearts full.
Ursa Major in a Minor Role
The bear from
The Revenant
turned up to support Leonardo DiCaprio and was spotted vociferously cheering for his co-star. The favour wasn't returned, however, and the bear was left out of the thanks.
The bear #Oscarspic.twitter.com/YMqIIxM6fE

— Dan Linden (@DanLinden) February 29, 2016
Sealed With a Kiss
Michael Fassbender didn't win Best Actor but he was so happy for rumoured girlfriend Alicia Vikander's Best Supporting Actress score that there was very public smooch in the front row. Everybody knows now.