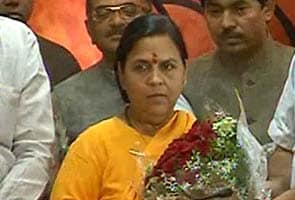 New Delhi:
She often uses her status of a monk to political advantage. Yet she is not the calm monk. Uma Bharti is fiery, she is unpredictable - she can be overtly coy, moody and playful in quick succession. She is mostly not circumspect and she has paid the political price for her tempestuousness.
After spending long years in political oblivion - she was expelled from the BJP for indiscipline in 2005 and taken back in 2011 - her career was resurrected yesterday, Easter day. She has been appointed one of the BJP's 13 vice-presidents in Rajnath's Singh's 76-member team that will navigate the party through next year's Lok Sabha elections.
Ms Bharti was effusive in expressing gratitude for her political rehabilitation. "I am grateful to Rajnath Singh for showing so much trust in me. I would also like to thank Gadkari ji, Advani ji, Ram Lal ji as well," she said, and added "by the grace of god, I am in a good political post now."
During her long years in the political wilderness, the
sanyasin
had made more than one attempt to get back. But the BJP took its time in forgiving her many transgressions.
Ironically, Ms Bharti's big political moment came only months before trouble first began to brew. In end 2003, she became a giant slayer. Backed by some savvy back-end electioneering from Delhi, Uma Bharti ended the long reign of the Congress' Digvijaya Singh in Madhya Pradesh. By a three-fourth majority, no less.
The vanquished Singh banished himself from active politics for a decade. And the BJP's
sanyasin
became the first woman Chief Minister in the feudal land of macho royals. She savoured the moment of victory, bursting with administrative plans, little knowing that she would soon be banished too.
The turn in political fortunes came soon after her hurrah. In August 2004, Ms Bharti had to resign when an arrest warrant was issued against her for her role in the 1994 communal riots in Hubli, Karnataka, which left six people dead.
Uma Bharti was not amused at having to quit what she had earned through hard toil. She rebelled against her party's decision to install Shivraj Singh Chouhan as Madhya Pradesh Chief Minister and left friend and foe alike stunned when she lashed out against party top boss LK Advani for his comments on Mohammad Jinnah. On national television. Her tantrum made for great TV, but poor politics. Uma Bharti's slide had begun - it took another year of suspension, show cause notices, reinstatement when the RSS intervened and more rebellion before the party thought it fit to expel her.
Cast away, Ms Bharti tried
yatras
, attempted to invoke Lord Ram, fasted for causes, and floated a party - the Bharatiya Janshakti Party. Other BJP castaways attempted to support her, but every effort sank. Her words as she was reinducted into the BJP thus seemed genuinely fervent when she said, "I want to forget the last 5 years I have spent out of BJP."
Uma Bharti was born on May 3, 1959, in a backward peasant family in a village in MP's Tikamgarh district and is said to have been a deeply spiritual child. She was soon fluent in the teachings and recital of the Gita and the Ramayana. She is known to be an avid reader of books on religion, philosophy and science.
Her association with the BJP began when she was very young. With her political mentor, Rajmata Vijayraje Scindia's blessings, she contested her first election seeking a Lok Sabha seat from Madhya Pradesh when she was only 25. She lost that election, but found the winning way in 1989, contesting elections in MP's Khajuraho. She retained the seat in the next three elections, and then contested in 1999 from Bhopal. In the NDA's reign she held several portfolios as a Central minister.
Uma Bharti got national recognition, or notoriety, when she became one of the abiding faces of the Ramjanmabhoomi movement in days leading up to the demolition of the Babri mosque in Ayodhya on December 6, 1992. She publicly reiterated her support for the campaign yesterday when she told NDTV, "the Ram Mandir is not about politics, but faith," adding that "the only solution is that the temple should be constructed."