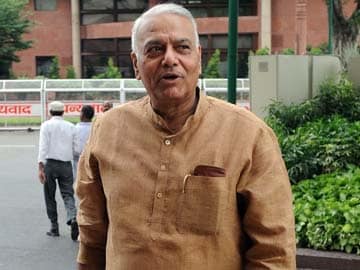 Bangalore:
BJP leader Yashwant Sinha today attacked UPA government's style of functioning, saying Congress vice president Rahul Gandhi is the 'new superman' and Prime Minister Manmohan Singh is a "tragic figure".
"Sri Rahul Gandhi for UPA government has emerged as a new superman; his every word is a command," he said at an interactive session organised by BJP's Karnataka unit.
Recalling the flip-flop by the cabinet over the ordinance relating to convicted politicians and number of subsidised gas cylinders at the 'behest' of Mr Gandhi, he sought to know what the system of collective responsibility of government had come to.
Pointing to separation of power between government and 'politics' between Manmohan Singh and Sonia Gandhi, he said "The Prime Minister of India is not only the leader of the government; he is the leader of the whole country".
"How can Dr Manmohan Singh be treated as leader of India when he is not even treated as leader of his own party. I can't imagine the meeting of parliamentary party which is in government where Prime Minister is not presiding over it but somebody else is presiding it- in this (scenario) Sonia Gandhi," he added.
He said what was "worse" was when Rahul Gandhi emerged and assumed office of Congress Vice President, "the PM was pushed from second to third place in the hierarchy... this shows the power equation in UPA."
"If there is somebody who represents the tragedy of Congress party today, more than anyone else- it is Prime Minister Manmohan Singh; he is the tragic figure, even his cabinet colleagues don't listen to him," he added.
Listing out various scams during UPA government's tenure, he hit out at Dr Singh and UPA for its 'inefficiency' in controlling it and for "demeaning" constitutional agencies like CAG who brought the scams into the limelight.
"Let me assure you, it's just a matter of less than three months when we come into office and each one of these scams will be properly investigated by the same CBI which is not investigating them today under political pressure."
Criticizing Aadhar initiative of the government, he said the single outcome of Aadhar is- "someone (Nandan Nilikeni) will be getting Congress ticket to contest Lok Sabha polls."