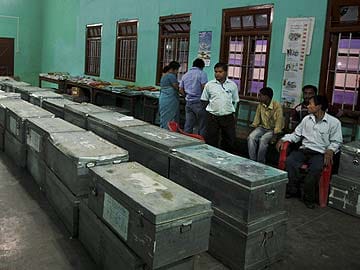 New Delhi:
The fourth phase of Lok Sabha elections will take place on Saturday covering seven constituencies in four states where more than 50 lakh voters will decide the fate of 74 candidates. (
Elections: full coverage
)
The states which will be covered in today's phase are Goa, Assam, Tripura and Sikkim.
Goa, with two seats, will witness a single phased poll where 19 candidates are in fray for the North and South Goa constituencies, including those of Congress, BJP, CPI and other regional parties and independents. (
Elections Candidates
|
Schedule
)
Prominent candidates from North Goa include Ravi Naik (Congress), BJP's sitting MP Shripad Naik and Aam Aadmi party's Dattaram Desai. From the South Goa seat, Congress' Aleixo Reginaldo Lourenco, BJP's Narendra Sawaikar and AAP's Swati Kerkar are among the prominent contenders.
South Goa's sitting MP Francisco Sardinha (Congress) has not been given a ticket this time.
In Goa, after every one male voter, two women voters would be allowed to exercise their franchisee.
This has been done for the first time keeping in mind that the females need to come out in large number to increase the voting percentage in the state.
Tripura also goes to poll on Saturday to elect its second representative to the Lok Sabha from the Tripura East (ST) constituency.
A multi-cornered contest will take place in the constituency among the CPI(M), Congress, Trinamool Congress and BJP.
There are 12 candidates in the fray including CPI(M)'s Jitendra Chowdhury, who is the state industries minister, Congress' Sachitra Debbarma, a prominent educationist, BJP's Parkshit Debbarma, an ex-armyman, and Trinamool Congress leader Bhriguram Reang.
The three phases of Lok Sabha election have so far seen impressive turnout. The election to elect the 16th Lok Sabha is being conducted in nine phase from April 7 to May 12. The counting will take place on May 16.