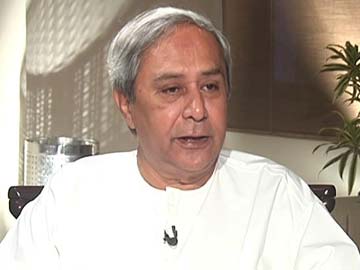 Bhubaneswar:
Undertaking a massive change in the list of candidates for both the Lok Sabha and assembly elections in Odisha, ruling BJD supremo Naveen Patnaik today denied tickets to 35 sitting MLAs and 6 MPs.
The sitting MPs denied tickets were Nityananda Pradhan (Aska), Mohan Jena (Jajpur), Rudramadhav Ray (Kandhamal), Yoswant Singh Laguri (Keonjhar), Jayram Pangi (Koraput) and Laxman Tudu (Mayurbhanj).
Mayurbhanj MP Laxman Tudu was replaced by sitting MLA Ramchandra Hansda while Yoswant Singh Laguri's wife Shakuntala was BJD's candidate from the Keonjhar Lok Sabha seat.
Among sitting MLAs denied ticket were three prominent leaders and former ministers like former finance minister Prafulla Ghadai, former law minister Raghunath Mohanty, former energy minister Kalandi Behera and former women and child development minister Anjali Behera.
Mr Patnaik, however, gave party ticket to sons of some prominent leaders.
The BJD supremo retained Priti Ranjan Ghadai, a sitting MLA from Korei and allowed him to contest from the Sukinda seat considered his father's fort.
Similarly, denying ticket to Kalandi Behera, his son Chandra Sarathi Behera (a sitting MLA from Salipur) would contest from his father's Cuttack-Sadar seat.
As panchayati raj minister Kalpataru Das was elected to the Rajya Sabha, Mr Patnaik allowed his son Pranab Prakash Balabantray to contest from his father's Dharmasala seat.
While denying ticket to Deogarh MLA Sanjib Sahoo, Mr Patnaik allowed his wife Anita Sahoo to contest from her husband's seat.
Similarly, while denying party ticket to Simulia MLA Parsuram Panigrahi, the BJD supremo allowed his son Jyoti Prakash Panigrahi to contest in his father's place.
Mr Patnaik allowed finance minister and BJD vice-president Prasanna Acharya to contest from Bijepur instead of his Rairakhole seat.
"Patkura MLA Bedprakash Agarwal and Niali MLA Dr Pramod Mallick will contest from their respective constituencies," Patnaik said finalising the candidates' list for 147 assembly seats and 21 Lok Sabha constituencies.
Mr Patnaik also rewarded party hoppers like Congress leader Hema Gamang, wife of former chief minister Giridhar Gamang, Congress MLA Anup Sai, former BJP minister Golak Naik and former JMM state president Sudam Marandi with BJD tickets to contest the assembly polls.
Former Leader of Congress Legislature Party Bhupinder Singh's case was not considered.
The list of candidates also included some film actors like Akash Das Nayak, T P Satpathy and Siddhant Mohapatra.
Follow NDTV for latest election news and live coverage of assembly elections 2019 in Maharashtra and Haryana.
Subscribe to our YouTube channel, like us on Facebook or follow us on Twitter and Instagram for latest news and live news updates.