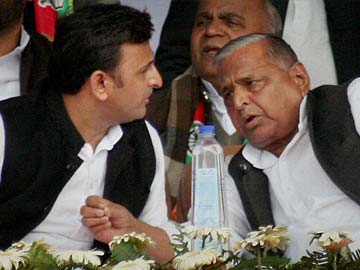 Allahabad:
In a stinging attack on Narendra Modi, Samajwadi Party chief Mulayam Singh Yadav today alleged Mr Modi's party, the BJP, was trying to deceive Muslims by talking of apology after "having allowed their carnage" in 2002.
Hitting back at Mr Modi for his taunt that the Samajwadi chief could not make Uttar Pradesh as prosperous as Gujarat as the feat required a "56-inch-chest", Mr Yadav raked the 2002 Gujarat riots issue at a rally in Allahabad. Meanwhile, UP Minister Azam Khan asked Muslims to defeat "the mass murderer who had called you a pupy", a reference to the remarks made by Mr Modi in an interview last year.
"I would like to remind him that I had demonstrated my strength when I visited Gujarat in the aftermath of the brutal massacre of Muslims. I went there and met and consoled victims of the horrible communal riots notwithstanding Modi's threat that his administration would not be responsible if I was attacked by mobs," he said as Modi addressed a parallel rally in Lucknow.
Describing Muslims as "a brave, sensible and trustworthy community", Mr Yadav charged the BJP with "hoodwinking" the minority community by "sounding apologetic after having allowed their carnage" - an obvious reference to the recent statement of BJP chief Rajnath Singh.
Firebrand party-leader and cabinet minister Azam Khan also came down heavily on both Congress and BJP, holding the former responsible for Partition which "drove a wedge between Hindus and Muslims".
Mr Khan said Muslims "ought to defeat the mass murderer who had called you a puppy and is now seeking your votes, realising that you may not be kings but without your blessings nobody could ever become a king either."
Mr Yadav also termed as "baseless propaganda" the development claims of Mr Modi during his more than a decade-long tenure as the Chief Minister of Gujarat.
Mr Yadav quoted a number of sources to claim that "more than 30 per cent of women and 50 per cent of children are malnourished in Gujarat".
"Rivers of the state are among the most polluted. Daily wages given to those working in the unorganised sector are lower than that in UP. You (Modi) call this good governance and development? I call it nothing but baseless propaganda," Mr Yadav said.