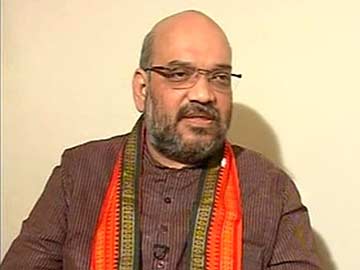 Varanasi:
Narendra Modi's close aide Amit Shah has clarified his controversial "revenge" speech in the riot-scarred Muzaffarnagar in Uttar Pradesh, which led to a brief ban on his rallies in the state.
Speaking to NDTV, Mr Shah said he had used the word "revenge" in the context of lack of development.
"If you see the text of my whole speech, then you will see that there is no difference between what I said in Muzaffarnagar and Ghazipur. Need to take revenge for lack of development. But the Election Commission decided to act. I don't want to say anything more," he said in Varanasi, from where Mr Modi, the BJP's prime ministerial candidate, is running for Parliament.
Amit Shah is in charge of the BJP's campaign in Uttar Pradesh, which sends 80 members to Parliament. In Varanasi, he is overseeing the arrangements for a grand roadshow on Thursday, when Mr Modi will file his nomination papers.
On April 11, the Election Commission had banned his rallies, taking note of his speeches in Muzaffarnagar, where he reportedly said that the national election was an opportunity to seek "revenge for the insult" inflicted during the riots in the district in September last. Samajwadi Party leader Azam Khan's rallies were also banned over his comment that the Kargil war was won by Muslim soldiers.
Last week, the Election Commission allowed Mr Shah to campaign in UP after his letter seeking a review of the ban and promising that he would not disturb peace. In its order it said it was giving him a "second chance" and that it would "closely monitor Shah's campaign by constant video tracking."
At a rally in Ghazipur just after this, Mr Shah asked for votes in the name of Narendra Modi, warning that voting the state's ruling Samajwadi Party would only bring the Congress back to power at the Centre.