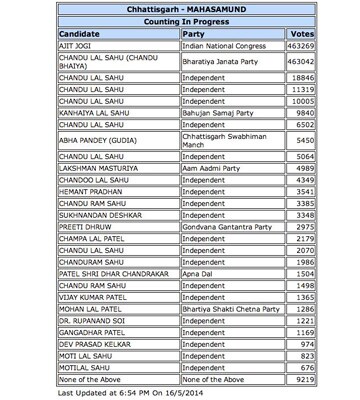 Mahasamund:
Congress leader Ajit Jogi's fluctuating fortune in Chhattisgarh was avidly followed on social media. After leading for most of the day, he lost to eight Chandu Lal Sahus by an unusually thin margin in the Mahasamund constituency.
Despite the confusing list of candidates, Mr Jogi could not buck the national trend and lost to his BJP rival, the "original" Chandu Lal Sahu.
Seven more "Chandu Lal Sahus", 10 more "Chandus" and 13 other "Sahus" in the battle, many believed, would have hopelessly divided the votes against the Congress candidate and ensured his win.
When Mr Jogi was leading earlier today, how he used a "bunch of Chandu Lals to beat Chandu Lal" became a trending topic on Twitter.
When the trends reversed, the result was stalled as Mr Jogi insisted on a recount.
The third, fourth and fifth candidates were all Chandu Lal Sahus who won thousands of votes.
The BJP had complained to the Election Commission against its candidate's namesakes and had accused Mr Jogi of using every trick to make sure he won. The party's state leaders alleged that the 10 others filed their nomination on the same day and all went AWOL after that.
Mr Jogi, 68, the first chief minister of Chhattisgarh, won the Mahasamund seat in 2004, defeating former union minister V C Shukla, who had contested on a BJP ticket.