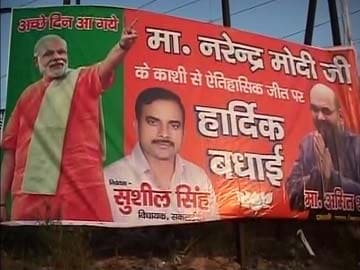 Varanasi:
Before the counting of votes begins, posters that have appeared overnight across Varanasi congratulate
Narendra Modi
, the BJP's prime ministerial candidate, for his victory. The party has also installed six huge massive LED screens at important intersections to broadcast televised coverage of the counting of results. (
India Decides 2014: Full Coverage
)
Mr Modi, 63, ran for parliament from the sacred city in a high-profile battle with anti-corruption hero
Arvind Kejriwal
who heads the Aam Aadmi Party or AAP.
The BJP is expected to win the national elections, securing a majority with its allies.
Election Commission officials have banned victory processions in Varanasi and throughout the electorally-critical state of Uttar Pradesh after results are announced.
The state's chief election official, Umesh Sinha, said on Thursday the decision was "ultimately aimed at maintaining law and order in the state".
Mr Sinha said the decision was not targeting individuals, amid local media reports that Mr Modi is planning a massive street parade for supporters on Saturday if he wins the seat of Varanasi. BJP sources confirm that Mr Modi will perform a special prayer on the banks of the Ganga.
Late last year, more than 50 people were killed and thousands displaced in Hindu-Muslim violence in Muzaffarnagar in the western part of Uttar Pradesh. (
Seven months after riots, Muzaffarnagar victims return to vote
)
Mr Modi's decision to stand in Varanasi was rich in religious symbolism and seen as reinforcing his Hindu nationalist credentials. In his campaign, he steered clear of hardline rhetoric and focused on promises to revive the economy and create jobs.