New Delhi:
The Delhi Government today asked the schools to avoid outdoor activities after the Air quality in in the national capital, which remained 'very poor' for the fourth straight day today, and is set to nosedive further. According to the government, high moisture content and lack of winds have triggered the spike. The Centre said it will take "harsh measures", if needed, to prevent any repeat of the recent smog episode, reported Press Trust of India.
As part of the health advisory, the government asked the schools to avoid outdoor assemblies, sports and other physical activities in the early morning hours.
The government has also advised people
to stay indoors as much as possible.
Earlier, the Delhi Government had asked all the schools from the city to remain closed for four days from November 8 to November 12 with pollution in the city became worse.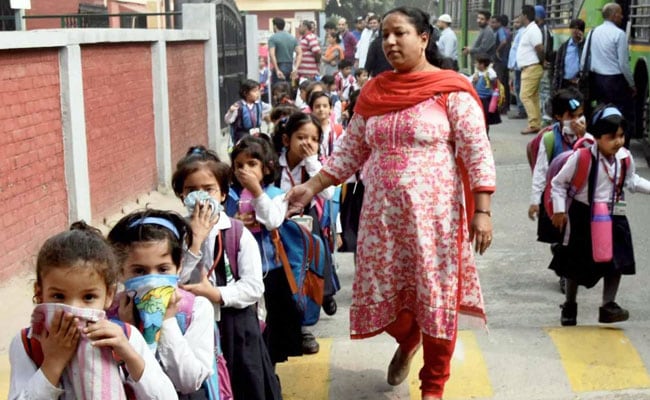 Though,
angry parents accused Delhi government authorities
of "playing with children's health" as schools reopened despite a fresh surge in pollution to emergency levels.
When schools reopened on November 13, after it was closed for four days many schools recorded low attendance owing to the still persisting severe air pollution levels.
The Central Pollution Control Board registered the day's air quality index (AQI) at 362, 10 units more than yesterday, on a scale of 500, reported PTI. The AQI takes into account levels of suspended particulate matter and gases like nitrogen dioxide.
An AQI between 301-400 is classified as 'very poor', which can trigger respiratory illness on prolonged exposure.
"Use carpooling and public transport, as much as possible. Walk or use non-polluting mode of transport for short distances," said the advisory issued by the Health Department.
"Do not smoke as it harms not only you but others also."
"Avoid going to high-pollution areas during peak hours. Stay indoors as much as possible. Schools may avoid outdoor assemblies, sports activities, and other physical activities in early mornings," the advisory added.
"If you feel breathless or experience palpitation, immediately go to the nearest medical facility," the advisory said, pointing out to "absolutely free" treatment at all government health facilities.
(With Inputs from PTI and IANS)
Click here for more
Education News