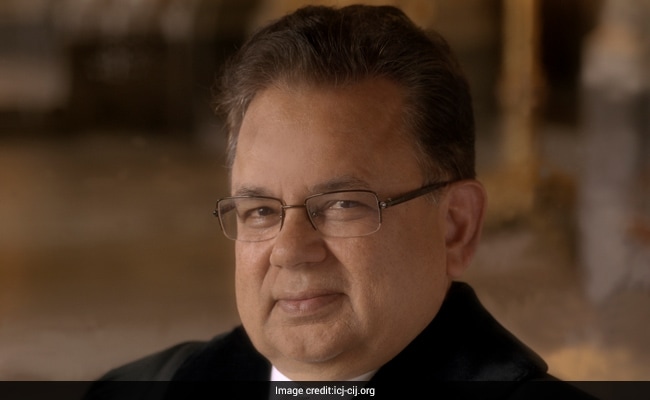 New Delhi:
Dalveer Bhandari has been
re-elected to the International Court of Justice (ICJ)
. His re-election comes after Britain pulled out of the election. But who is Dalveer Bhandari? Most of us must already know him from the Kulbhushan Jadhav hearing. Dalveer Bhandari was a senior Supreme Court Judge who was first elected as a member of ICJ in 2012. As a Supreme Court Judge, he is known for some remarkable judgements.
Coming from an illustrious family of lawyers, Justice Dalveer Bhandari himself has many feathers in his cap of achievements.
10 things to know about Educational Qualification of Dalveer Bhandari
1. Dalveer Bhandari graduated in humanities and law from the Jodhpur University.
2. Just like his father Mahaveer Chand Bhandari and grand father B.C. Bhandari who were members of the Rajasthan Bar, he too practiced in the Rajasthan High Court from 1968 to 1970.
3. In June 1970, he was granted an international scholarship and was invited to the University of Chicago for a workshop on Indian Law.
4. Another international scholarship, led him to complete Masters of Law degree from Northwestern University School of Law.
5. He worked at Northwestern Legal Assistance Clinic and appeared in court on behalf of litigants.
6. On an international fellowship, he visited Thailand, Malaysia, Indonesia, Singapore and Sri Lanka on an observational-cum-lecture tour on legal aid and clinical legal educational programmes associated with the law courts and law schools.
7. In 2010, Tumkur University, Karnataka conferred an honorary doctorate on Justice Bhandari "for his magnanimous contribution to law and justice".
8. In June 2013, National Law University, Delhi also conferred an honorary doctorate on Dalveer Bhandari.
9. Other universities which have conferred honorary LLD and D.Litts. on Justice Bhandari are KIIT University, Odisha, Jian Vishva Bharati University, Rajasthan, and Vardhman Mahaveer Open University, Rajasthan.
10. In 2014, he was awarded Dr. Nagendra Singh International Peace Award and in the same year he was also awarded Padma Bhushan.
Click here for more
Education News