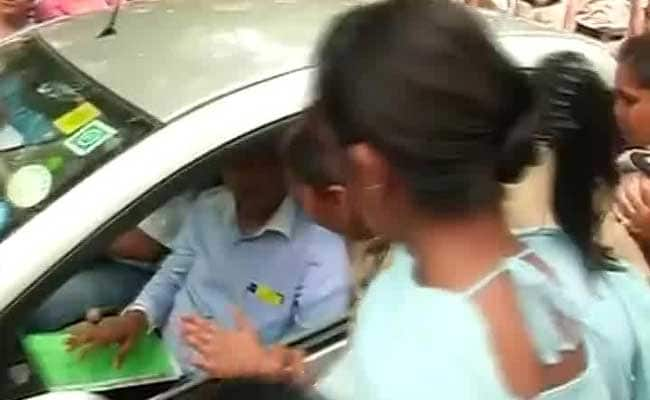 New Delhi:
The Aam Aadmi Party's Somnath Bharti, caught in a fresh controversy, met Delhi chief minister Arvind Kejriwal at the latter's residence. Other senior AAP leaders like Ashutosh and Kumar Vishwas were also present.
While the meeting of the AAP leaders was being held, hundreds of BJP protestors shouted slogans against Mr Bharti outside his office in Malviya Nagar. Mr Bharti has been accused by his wife of domestic violence and mental torture and the BJP is demanding that he resign as one of AAP's 67 legislators in the Delhi Assembly.
Somnath Bharti's wife, 40-year-old Lipika Mitra, has complained to the police and the Delhi Commission for Women or DCW that she has been subjected to "continuous" physical and mental abuse and financial deprivation since their marriage in 2010.
In a 26-page complaint to the DCW, Ms Mitra alleged that her husband had once set his dog on her when she was seven months pregnant. She has alleged that he does not provide money to support her or her children.
"I want a separation. I want out from this marriage and live with dignity with my children," Ms Mitra said.
Somnath Bharti, 41, has denied his wife's charges. He said the allegations had come as a shock to him and in a series of tweets also said his wife had filed a false complaint against him since he refused to agree to her request to leave serving his mother and India.
He also said that there was no question of abuse since the two have been staying separately for nearly a year and six months.
Delhi's police chief BS Bassi said today,"Ms Mitra will be given security since she sounded apprehensive. We will look into the matter. Thorough investigation will be done and action will be taken."
The DCW has summoned Mr Bharti, a lawyer by profession, to appear before it on June 26. It's chief Barkha Singh, who is closely associated with the Congress, alleged,"He had hit her before he left, threatened to kill her, abused her... She has two children and even they are being harassed."
The accusation against Mr Bharti comes as a fresh controversy for AAP; barely two days ago law minister Jitender Singh Tomar resigned after he was arrested for allegedly faking degrees. The four-month-old Arvind Kejriwal government is also locked in a bitter turf war over key appointments with Lieutenant Governor Najeeb Jung.