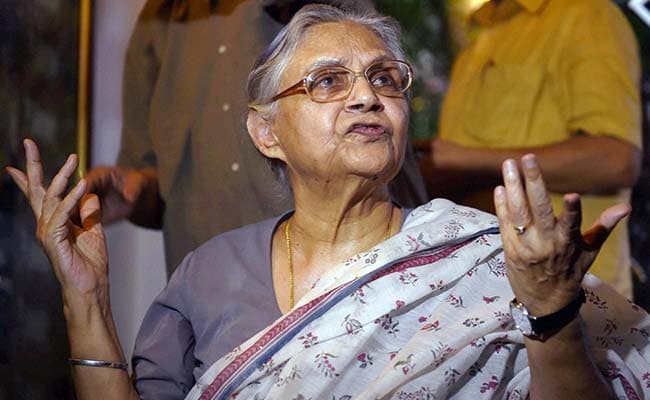 Highlights
Arvind Kejriwal has been camping at Lt Governor's office for 5 days
Mr Kejriwal not conscious of his constitutional duties: Sheila Dikshit
"What is he fighting for? What's the aim?" asked Sheila Dikshit
New Delhi:
Even as Delhi Chief Minister Arvind Kejriwal and Co. continue to couch-surf at the Lieutenant Governor's home for the
fifth day
, senior Congress leader Sheila Dikshit has trashed the Aam Aadmi Party leaders' protest as an "excuse to not work". At a press meet in the national capital today, she said Mr Kejriwal was not at all conscious of his constitutional duties and people are suffering because of his "confrontational politics".
Ms Dikshit, who thrice ruled Delhi before AAP came to power in 2013, said it was "completely unacceptable" that the head of the government was sitting on a "
dharna
" at the Lt Governor's house when the city was enveloped in a thick blanket of haze and dust.
"First of all, I don't understand what's their fight is about. What is he fighting for? What's the aim?" asked Ms Dikshit.
The Congress veteran said people of Delhi had given Mr Kejriwal a "huge" majority and they know "what's happening". He does not have any option of staying away from his responsibilities, she said.
"What message you are giving? It (
dharna
) makes no sense. People of Delhi are very disappointed because they brought him with a huge majority and this is how he is treating them?" asked Ms Dikshit.
Four ambulances reached Delhi
Lieutenant Governor Anil Baijal's home
this afternoon amid speculation that Mr Kejriwal and his three ministers - Manish Sisodia, Satyendar Jain and Gopal Rai -- would be forcibly removed from the guest room where they have parked themselves demanding directions to the
IAS officers to end their "strike"
.
Referring to the administrative structure and Mr Kejriwal's demand for full statehood for Delhi, Sheila Dikshit said he has to accept the fact that Delhi is a union territory and there are going to be limitations for any chief minister, but the disagreements between the Lt Governor and the chief minister can be sorted out with discussions.
"The roles of the Lt Governor and the chief minister are well defined. You can't suddenly change their roles. Both of them are free to disagree, but a dharna at LG's house is no solution. The photographs that have come out of their sit-in protest are disgraceful," she said.
She added when the Congress was in power in Delhi, they, too, had made the full statehood demand, but they also realised that it wasn't possible.
"Delhi is the national capital. The centre wasn't ready to give charge of land and police to the Delhi government, because for that the constitution had to be changed. We understood that and didn't politicise it or use it as an excuse to not work," she said.
The bureaucrats in Delhi government have been on a symbolic strike since an alleged assault on Chief Secretary Anshu Prakash at the chief minister's official home in February. The officers have demanded an apology from Mr Kejriwal and have boycotted meetings with AAP ministers.
Ms Dikshit criticised the AAP chief for his frequent run-ins with the centre as well as the bureaucrats and said, "These bureaucrats are not political. The system was exactly the same during Congress's rule but we never fought with them. There was never any conflict."
Since coming to power following a sensational victory in 2015 winning 67 out of 70 assembly seats, Mr Kejriwal has been at loggerheads with the centre over a host of issues. He often targets Prime Minister Narendra Modi of trying to stall governance in Delhi.
Sheila Dikshit clarified that during her tenure when Atal Bihari Vajpayee was the Prime Minister, she did not have any problems with the BJP at the centre. "The Delhi Metro project and CNG buses on Delhi roads and other development projects were made possible as both the governments worked together. If there is a conflict, you should try and bring everyone together. Now there is conflict and nothing else," she said.