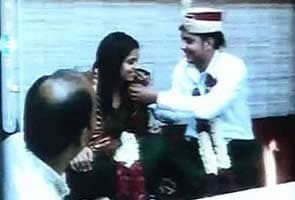 New Delhi:
In a fresh development in the Paras Bhasin death probe, his wife Shaily Mittal gave a two-page suicide note to the police and reportedly told them that Paras had attempted suicide twice before.
Shaily, along with her father, was questioned by the police yesterday. She claimed they prepared the note ahead of their suicide attempt a few days ago to kill themselves together by getting run over by a train. She also said that they were too scared to go through with it. Shaily also told the police that Paras had tried to kill himself on May 8 by slitting his wrist and that she married him the very next day fearing he may try to kill himself again. The police are verifying the suicide note.
Paras' mother Nina Bhasin, however, rubbished her claims and said, "If the plan was from both sides and the boy has committed suicide then why hasn't the girl done it yet? The police has been bought over. Whoever pays them money, they will be swayed that side," Mrs Bhasin said today.
She also denied that Paras tried to commit suicide before and demanded a CBI investigation in the case.
Mr Bhasin, 22 years old, was found dead near a railway track in East Delhi on Saturday - his head was missing, a tattoo of his wife's name, Shaily Mittal, helped identify him - but it took the police nearly three days to register a case of murder, after first inexplicably describing it as a suicide. Mr Bhasin's father-in-law was allegedly unhappy with his daughter's marriage.
A group of around 50 people organised a protest march last evening from Mr Bhasin's residence in Subhash Nagar in west Delhi to the DCP's office in Rajouri Garden, demanding action against his wife's family. Mr Bhasin's family alleges that his in-laws are responsible for his death.
"Earlier, the police said that it's a case of suicide. When the media held a presser, they said it's a case of murder, now after the results from the forensic laboratory, they have again changed it to a case of suicide. I saw my brother's face, it was in pieces. It will not be into pieces if a train ran over it, they are just trying to fool us," said his sister Surbhi.
A man who reported his death to Mr Bhasin's family was identified yesterday as a passer-by, who found Mr Bhasin's ID near the railway tracks and phoned his home.
The police said yesterday that reports that Mr Bhasin's corpse had been found headless were inaccurate. They say he was run over by a train, and that the impact left his body severely dismembered. They say they cannot rule out whether he committed suicide - a notion that deeply upsets his family, which blames his in-laws for his death.
"His body was not cut into pieces, but crushed. We are still investigating whether it was suicide or murder," said Sanjeev Jain, DCP, Crime Branch.
Police said they were planning to question the drivers of trains.
Mr Bhasin secretly married Shaily, the young woman he was in love with, nearly four months ago, says his brother. However, because the bride's family was against the relationship, Ms Mittal continued to live at her parents' home, without acknowledging her wedding.
On August 24, she allegedly broke the news of her marriage to her family. A day later, Mr Bhasin's family met her mother at a mall. Her father made phone calls to the Bhasins' neighbours, inquiring about the family. On August 29, Mr Bhasin finally met his father-in law, who he would later tell an uncle, humiliated him.
On September 1, he left his home and was found dead hours later.