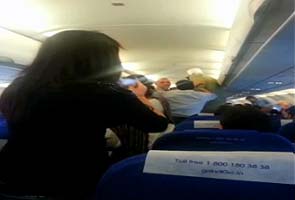 New Delhi:
Passengers on board the Mumbai-Delhi IndiGo flight in which a man turned violent, assaulted crew and threatened to take the plane down, said that he refused to listen to air hostesses asking him to calm down and tried to storm the cockpit. He has since been arrested in Delhi. His family has produced documents that say he is mentally unstable, but police in Delhi are not fully convinced.
The incident was filmed by a passenger on board the flight. On video, the man is seen in a scuffle, before he is pinned down. Other alarmed passengers are seen out of their seats and standing.
(Watch: Mid-air scare caught on camera)
Reliving her horror, passenger Mohini Ganju told NDTV, "The air-hostess requested him to take his seat a dozen of times but he didn't listen. He became angry, his eyes became red. When the air hostess went back to the trolley, he rushed towards her and slapped her. He also tried to push her and run towards the cockpit in a fit of rage. However the trolley blocked his way. By then few men on board stopped him. He had a scuffle with them too. All the while he was shouting to the air-hostess - do you want to go down with me?"
The plane, which took off from Mumbai at 3:15 pm on Wednesday, had been airborne for about an hour when 40-year-old Mursalin Sheikh, a bearded man in a pathani suit, got agitated and began to talk threateningly. Crew members say he tried to make a dash for the cockpit and the aisle was blocked with a food trolley and he was restrained with the help of other passengers.
Co-passengers said the man seemed disturbed, but was not carrying any weapon.
Mr Fahim, the cousin of the accused, said he has a history of violent outbursts. "He left Mumbai without informing anyone. We don't know how he got a ticket for the flight. He has had such fits of rage before, he has been under treatment for some time. I had to show documents to prove that to the police here in Delhi," he said.
However police are not convinced with the medical proof shown by the family of the accused. Police at Delhi's IGI airport have registered a case against the passenger. "He created a scare. The suspect was forcibly pinned down. He appears to be mentally unsound," said S Deshwal, Deputy Commissioner of Police, IGI airport.
Confirming the incident, IndiGo said, "This unruly passenger started screaming and also physically assaulted a crew member. The passenger also got violent with co-passengers, and tried to access the forward of the aircraft. IndiGo crew made appropriate announcements and deployed security measures to block access to the front of the aircraft and the front galley."
Passengers have complained about lack of urgency to deal with the situation. Ms Ganju said, "Because there were only female air hostesses they could not manage the situation, the male passengers had to pitch in. Even after we landed there was some airlines security person who came in with a diary, there seemed to be no promptness or urgency."
The pilot of the aircraft sought permission for a priority landing in Delhi and the Central Industrial Security Force (CISF) arrested the man at the airport. A case of assault, outraging the modesty of woman and criminal intimidation has been registered against him.
Mr Sheikh, who deals in second hand cars in Mumbai, will be produced in a Dwarka court in Delhi today. The police say the charges against him are bailable and that they will wait for a relative to pay the sureties and get Mr Sheikh out on bail. If that doesn't happen, they say, then he will be produced in the court later in the day.