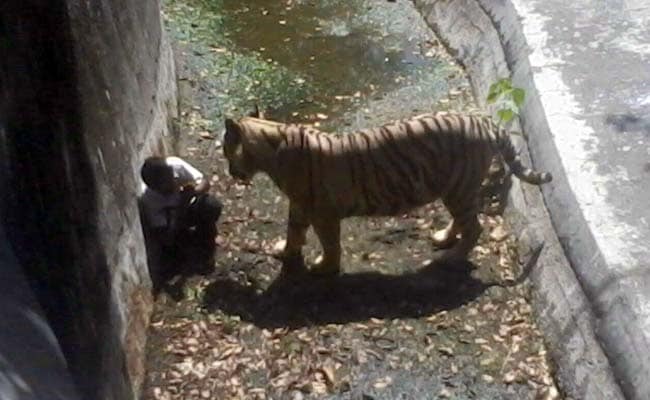 New Delhi:
A young man who was killed by a white tiger at the Delhi zoo on Tuesday was stopped by guards twice before he jumped into the enclosure, officials claimed today.
"The man who jumped is responsible for this entire incident. He has been a mental patient for four years," said Riyaz Ahmed Khan, zoo spokesperson.
Maqsood Khan, 20, fell into a dry moat in the tiger enclosure yesterday afternoon and was mauled within minutes. The full-grown animal first circled him and did nothing. It struck after visitors started shouting and throwing stones at it.
A video shows the tiger growing progressively agitated and then grabbing Maqsood before pacing with the body and settling in a grassy corner.
Mr Khan said Maqsood jumped into the enclosure when the guard was looking away. Maqsood's friends claim he used to take drugs and had separated from his wife and son recently.
In a chilling image captured by witnesses, he is seen cowering before the animal, his hands folded, just after falling in.
Witnesses claimed that the zoo guards came armed with batons instead of tranquilizer guns that could have saved the man.
But zoo officials say there wasn't enough time to fetch the gun from the animal hospital half a km away.
"The guards did not have any time to carry out their basic security protocol. It takes time to load a tranquilizer gun. The guards were trying their best to control the crowd," the spokesperson said.
Maqsood stayed in a west Delhi area with his parents and brother. A relative has said he was mentally ill.
The tiger, called Vijay, is seven and weighs over 200 kg. It has never attacked anyone before, said the zoo. It will be under observation for the next four days.
It is one of the six white tigers that are the star attraction of the zoo.
The Environment Ministry has ordered an investigation into possible security lapses at the zoo, which draws about 5,000 visitors a day. The Delhi zoo, like many others in the country, is overcrowded but understaffed.