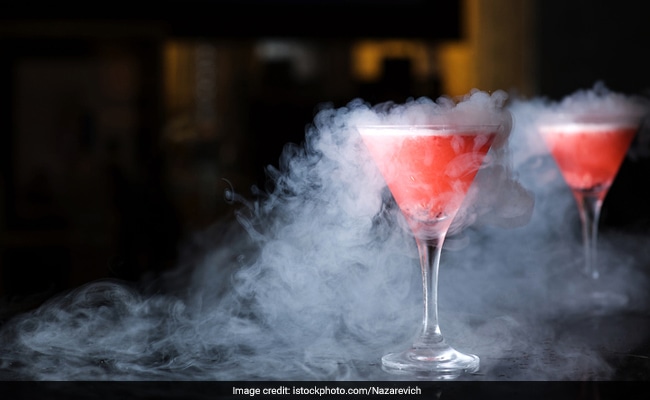 Highlights
Businessman drank liquid nitrogen cocktail which comes with vapours
Rushed to hospital, doctors say nearly half stomach removed
UK has seen a campaign demanding ban on liquid nitrogen cocktails
New Delhi:
Hours after he walked into a pub in Gurgaon, a young businessman from Delhi was rushed to hospital where doctors removed what they describe as "nearly half his stomach."
The 30-year-old, who has requested anonymity, had ordered a cocktail laced with liquid nitrogen. He swallowed the drink even before the white smoke - liquid nitrogen vapours - had vanished.
Despite some discomfort which included breathlessness and pain in the abdomen, he finished his drink and ordered another. Minutes later, he was in excruciating pain and his stomach was swollen.
"Within seconds, my stomach started swelling and I was in unbearable pain. Breathing was also difficult," the man told the
Hindustan Times newspaper
.
He was rushed to the nearby Columbia Asia Hospital's emergency ward where doctors assessed that he had a weak pulse, low BP and signs of "severe metabolic acidosis" - a condition which occurs when the body starts producing too much acid or the kidneys fail to remove enough acid from the body.
Suspecting worse, Dr Amit Deepta Goswami, the doctor on duty, asked for an emergency CT scan which showed a perforation or hole that turned out to be about 10 cms in length in the lower part of the stomach.
A three-hour surgery followed. The businessman spent 10 days in intensive care and has given up drinking completely. "Now the patient is doing fine," the doctor said.
Police on Tuesday said they are awaiting a complaint in connection with the incident.
"We are trying to identity the pub which is guilty in this incident and are trying to obtain the victim's details from hospital administration to approach him as it is very serious issue if pub's staff offered cocktail with soda mixed with liquid nitrogen," senior police officer Manish Sehgal told PTI.
"The victim should approach us since it is a four months old incident," Mr Sehgal added.
Liquid nitrogen is used at bars because it can quickly chill glasses, freeze ingredients or provide the smoky effect -when combined with alcohol, the gas, in liquid form, adds a halo or steam or vapour -a smoky effect that has become trendy over recent years, popular in the way that cocktails that are set alight were a few years ago.
In 2012, an MP in the United Kingdom started a campaign asking for a complete ban on cocktails that use liquid nitrogen.