Highlights
Kanhaiya Kumar released from jail, gives powerful speech at JNU
Hour-long speech demanded 'Azaadi' from corruption, backwardness, hunger
Kumar: 'We want freedom, not from India, but within India'
New Delhi:
Close to midnight at the Jawaharlal Nehru University (JNU), Kanhaiya Kumar, released from jail just hours before, repeatedly shouted '
Azaadi
' - the word that led to sedition charges against him. Hundreds of students cheered.
"We are not asking for
Bharat se Azaadi but Bharat me Azaadi
(We want freedom - not from India, but within India)," said the 28-year-old to his captivated audience.
In the
hour-long speech
that trended worldwide and drew strong political reactions, Kanhaiya Kumar hit out at Prime Minister Narendra Modi and his government.
"When Modiji spoke about Stalin-Khrushchev, I felt like getting into the TV, grabbing him by his suit and saying 'let's talk about Hitler," he said to a roar of applause.
He began with
slogans of "Azaadi
(freedom)" from hunger, corruption, discrimination and backwardness.
Mr Kumar said: "If there is a problem in the country, is it wrong to ask for
azaadi
from it? They say who is he demanding
azaadi
from? You tell me. Has India made anyone a slave? No. Then obviously not from India."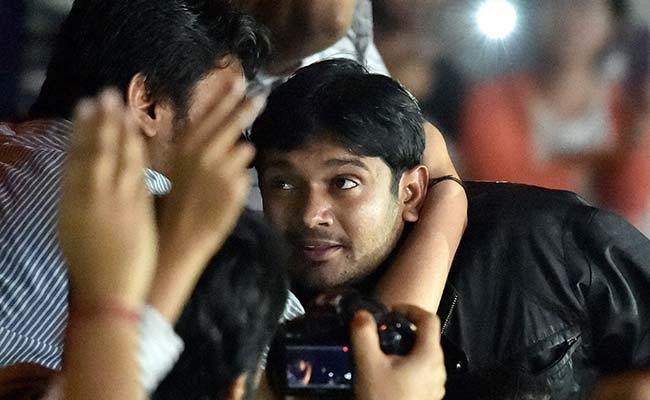 The student leader was released from Tihar Jail 21 days after his arrest on sedition charges for allegedly making anti-national statements at an event held on February 9 in support of Parliament attack convict Afzal Guru, who was hanged in 2013. One of the allegations against him is that he repeatedly called for "freedom from India".

As he returned to the JNU campus last night, a large crowd of students was waiting at the same place where he made the speech called "seditious" by the police. The atmosphere was electric.

"I come from a village where there are magic shows. People show magic tricks and sell rings that fulfill all wishes...We have some people like that in our country, who say black money will come back, sabka saath sabka vikas (development for all)," Mr Kumar said taking a dig at the BJP.

"We Indians forget too soon but this time the tamasha (show) is too big and these jumlas (gimmicks) won't be forgotten," he said to applause and laughter.

Throwing in plenty of one-liners to make his point, Mr Kumar quipped: "Some got swayed by your Har Har slogan. These days people are upset about Arhar (dal)."

He said he has "serious political differences with Mr Modi but will agree with his tweet in which he said Satyamev Jayate (truth will win)."

He also took a swipe at Education Minister Smriti Irani, who defended action against the JNU students. "My child, my child... she says. For the first time I saw her acting. Is it the Lok Sabha TV or Star Plus?"

Smriti Irani had repeatedly referred to Hyderabad student Rohith Vemula as a "child" while accusing opposition parties of politics over his suicide.

While he was speaking, reactions had started pouring in. Delhi Chief Minister Arvind Kejriwal was among the first to tweet his praise.