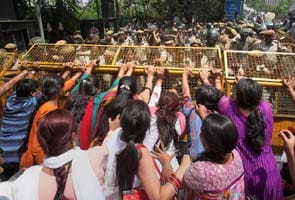 New Delhi:
In 40-degree heat, at different locations across Delhi, protesters spent hours on Saturday making their anger known over the rape of the five-year-old whose condition at AIIMS has improved.
The doctors said she is responding to antibiotics and that there will be surgery after her infection is controlled. They, however, mentioned that the injuries she suffered are grave.
For three days, she was tortured and raped allegedly by her neighbour, who was arrested in Bihar yesterday. (
Read: Alleged rapist left for Bihar believing child was dead
)
The savagery of the assault has revived the fury and shame that tore through the city when a medical student was fatally gang-raped on a moving bus four months ago, triggering new laws to punish crimes against women and pledges from the government and the police to ensure women are better protected.
In December, the government had failed in the first wave of protests to gauge the mood of the public and ignored the massive street protests. This time, the reactions have been swift.
Congress president Sonia Gandhi has sent a tough message, warning that it is time for "action and not words". She visited AIIMS on Saturday and met the girl and her family. The Prime Minister has ordered that action be taken against the police officer who allegedly slapped a woman protester yesterday at the hospital where the girl was being treated before she was moved to AIIMS last evening. (
Read Prime Minister's full statement
)
The demonstrators today, galvanised by Arvind Kejriwal's Aam Aadmi Party, student groups and women activists shouted slogans outside AIIMS, tried to break through the barricades at the police headquarters and at the residence of Home Minister Sushil Kumar Shinde, demanding the resignation of Police Commissioner Neeraj Kumar. (
Read: Shake-up at topmost level of Delhi Police likely
)
"The government makes laws just for the sake of making them, with no intention to stop crimes. None of the laws are implemented, and we see rapes increasing by the day," said a man protesting outside the police headquarters.
At 12.30 pm on Saturday, Mr Shinde said he did not know the latest on the medical condition of the child, a questionable statement from the Home Minister, given the gravity if the case and the public furore. Also, a medical bulletin had been shared by AIIMS hours earlier.
A march by the BJP leaders, headed to Home Minister Sushil Kumar Shinde, was stopped by the Delhi Police. Some of the leaders were detained when they moved towards Parliament.
The police was prepared with water cannons at India Gate in the heart of the city, where protests in December had turned violent. However, demonstrators said they will now reconvene on Sunday.