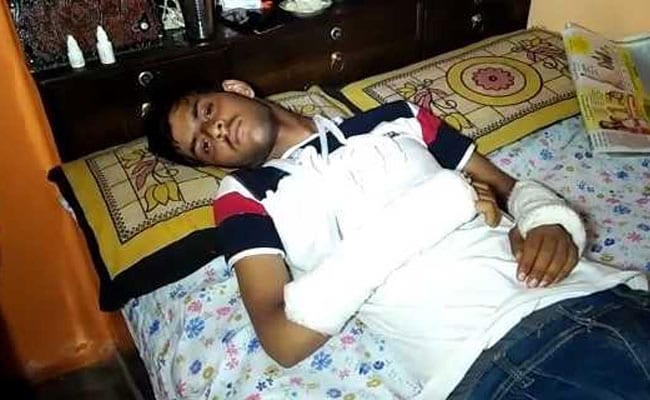 Highlights
Keshav, a Flipkart employee, was strangled and stabbed in the abdomen
He was delivering a cell phone in Delhi's Nihal Vihar
The late delivery angered the customer Kamal Deep, 30, who attacked him
New Delhi:
Keshav Kumar Singh had only dialed a number to confirm the address of the customer residing in Delhi's Nihal Vihar. But the 28-year-old delivery man had no idea what horror awaited him on the other line. He soon landed into a heated argument with Kamal Deep, the customer, due to the late delivery.
She had ordered a rupees 11,000 cell phone from online shopping portal Flipkart.
Things got out of control when an enraged Kamal Deep, 30, pushed the 28-year-old. After he fell on the floor, her brother allegedly got his hands on a pair of shoe laces and tried to strangle him. But the horror story did not end there.
The woman then sat on the delivery man's abdomen before stabbing him multiple times. She was allegedly helped by her brother Jitender Singh, 34, in choking the man.
The brother-sister duo also robbed Keshav off rupees 40,000 after he fell unconscious. Thinking he was dead, they dumped the bleeding man in a drain.
"I gave her the packet, collected the money. Just as I turned around, she put a lace around my neck and slit my wrist. She pushed me down and thrashed me. I lost consciousness. When I regained consciousness, I was lying near a drain," Keshav said.
Fortunately, passers-by spotted the man lying in a pool of blood and alerted the police following which the two were arrested.
"A van used in the offence, a blood stained towel, a knife and shoe laces used to choke the delivery man have been recovered," the police said.
Flipkart has termed the situation as unfortunate and assured best possible medical care for Keshav.
There was an unfortunate attack on one of our delivery boys recently. We are working to ensure that he gets the best medical care and recovers soon. As an organisation we are committed to do everything for his health and his family's well being.

— Flipkart (@Flipkart) March 29, 2018
The delivery man is now admitted in Sanjay Gandhi hospital and is said to be recovering.