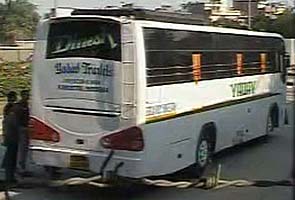 New Delhi:
The case of a young woman, battered and then gang-raped on a bus in Delhi, has incensed and stirred India, with protests across the country demanding an urgent change in laws, the attitude of the police, and a swift trial for the six men accused of Sunday night's heinous crime.
Four of those six men have been arrested, among them a driver named Ram Singh, age 33, who was often drunk, according to the police. For ten months, he was assigned to drive a bus which was owned by a private company and hired by a school.
On Sunday night, he was not driving that bus; his brother, Mukesh, was. The police says the brothers and four of their friends decided to go "on a joyride" in their off-duty hours. They posed as the sort of chartered bus that is often used as public transport in Delhi.
The bus had tinted windows and curtains, banned in Delhi. But it was not stopped as it moved through a series of police check points.
On board, a medical student and her friend were being assaulted with vicious force. They had finished watching a film and boarded the bus to go home. Ram Singh and his friends allegedly taunted the woman, asking her why she was out late with a man. Her friend, who works for a software firm, intervened. The men turned on him with an iron rod. The girl then tried to protect her friend, infuriating the assaulters who decided to punish her. First, they hit her. Then they raped her. The bus kept driving.
Ram Singh refused to participate in an identification parade at a Delhi jail today, though his brother Mukesh acquiesced and has been identified by the victim's friend who was with her on the bus.
The police says that its investigation reveals that Ram Singh was ill-tempered, "criminally minded", and was often drunk after work. He has four brothers; three of them left the family home because he mistreated them. He then moved to a small one-room accommodation which he shared with Mukesh.
In 2009, he had a serious accident while driving a bus and an iron rod had to be inserted in one of his arms. The police say that the injury resulted in an inferiority complex and made him more prone to picking up fights. His wife reportedly died three years ago after a kidney failure.