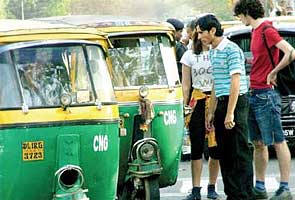 New Delhi:
The Delhi government today warned the auto-rickshaw drivers of punitive action if they overcharge commuters and refuse ply by fare metre.
At a meeting with various stakeholders, Transport Minister Ramakant Goswami asked enforcement wing of his department and police to come down hard on errant auto drivers.
Heeding to a long-standing demand of the auto-rickshaw and tax unions, the Delhi government last week hiked the fares by 25 per cent. The revised rates came into effect from last Saturday.
"We are determined to regulate plying of auto rickshaw. We will take action against those auto-drivers who refuse to ply by the metre," Mr Goswami said, adding that refusal to ply or misbehaving with commuters will also attract penalty as per license condition.
"We are determined to bring discipline on the roads. The auto drivers will have to be courteous with commuters," he said.
The minister said officials of enforcement wing of transport department and the traffic police will ensure that auto-rickshaws in an around the airport and railway stations operate only under the prepaid services.
"The Delhi Traffic Police will be issuing stickers to the auto-rickshaw that will contain two dedicated complaint numbers where the aggrieved commuters could register their complaints," Mr Goswami said.
He said carrying of advertisement on auto rickshaws will not be allowed.