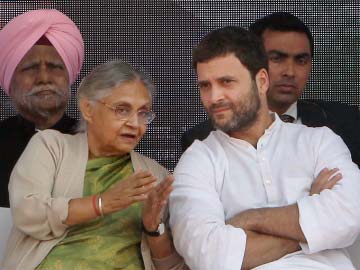 New Delhi:
The Congress is struggling to explain the less-than-enthusiastic response to Rahul Gandhi's rally in Delhi on Sunday ahead of the December 4 assembly polls.
The party today blamed factors ranging from security to lack of water for the poor show at the rally in south Delhi. This is the second such event in the capital - since last month's rally at Mangolpuri in north Delhi - that their star speaker has failed to draw crowds and Congress strategists are worried.
"The police were extraordinarily strict, so people were not being allowed in. When water was not allowed in, then people got thirsty and restless," Delhi Chief Minister Sheila Dikshit said, insisting that it was a 'good rally."
"It was not a fiasco. I strongly disagree. All our people were busy filing their nominations, despite that it was a good rally. Rahul's speech impressed Delhi," added the 75-year-old, who is trying to win a fourth straight term in Delhi.
On Sunday, it was Ms Dikshit who pleaded repeatedly to the thinning crowd, "My dear sisters, I know you must be hungry, thirsty... at least listen to Rahulji before leaving."
Sizing up an audience smaller than the police and media contingent, the organisers even took the stage to ask security men to speed up their checks and let people in faster.
The steady stream towards the exit gates forced the Congress number 2 to keep his speech short at just about seven minutes.
Sunday's debacle is worse as it played out in what is supposed to be a Congress stronghold at Dakshinpuri, one of the hundreds of illegal colonies in the city regularized over the years and given power and water connections, for which the Congress government takes credit.
Since October 27, this is the second 'Sunday clash' between the Congress leader and Mr Modi, the BJP's presumptive Prime Minister. Mr Modi, whose rally was targeted by serial blasts on that day, boasted that when they both started speaking at the same time, many channels just played his audio and muted Mr Gandhi's speech.