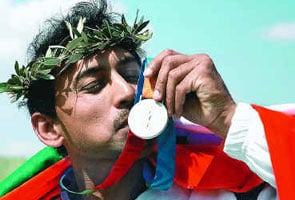 New Delhi:
Athens Olympics silver-medallist Rajyavardhan Singh Rathore, who is set to miss the Delhi Commonwealth Games after skipping the trials, on Tuesday said he was driven into taking the step by a "biased" selection policy and a "prejudiced and vindictive" National Rifles Association of India.
Rathore has become ineligible for the Commonwealth Games selection after he refused to turn up for the double trap trials on Tuesday.
"I have been driven to this. What does an ordinary sportsperson do? I had been begging the officials and the ministry to change the policy but nobody listened to me. I don't know, what do I have in terms of personal pride?" Rathore said.
"I have listed the ills of this system time and again but nobody seems to care. I mean, this is a system which almost drove an Olympic gold medallist Abhinav Bindra into giving up and something similar has happened to me," he added.
"The whole atmosphere of Vindictiveness, created by the sports administrators did not leave me or some of the other shooters with a positive frame of mind to overcome the odds stacked up," he said.
Rathore said the current selection policy, which follows a system of adding up all scores and averaging them out, had left him stumped when it was introduced in March this year and disturbed his preparations to an extent that he longer felt motivated to attend the trials.
"I think, as sportsmen, we all go through the adversities created by our sports officials some time or the other. After taking 2009 off I planned to start training by January 2010 and be in form by June 2010 for World Shooting Championships.
However in March 2010, we got stumped by the Federation when they announced a new selection policy," he said.
Listing the problems with the policy, Rathore said despite being introduced in March "the scores were retrospectively taken from previous months like February 2010 giving rise to prejudice and bias."
"Scores shot by Indian shooters abroad in different (mostly better) conditions were to be compared to scores shot in humid, hot and windy conditions prevailing in the summer months in India.
"Taken by surprise, since I was not in form in early 2010, I was left with a huge score deficit to catchup in the later selection trials (in Indian conditions)," he explained.
Rathore said while the federation relaxed the rules for rifle and pistol shooters, it didn't do so for the shot gun shooters like him.
"Interestingly, the same policy was for Rifle and Pistol shooters too but was amended for them but not for Shot Gunners. So we had a situation, one federation but different selection policies. Again, revealing bias," he said.
"The question arises if relaxations can be made for one group shooters why not for us?," he asked.
"The policy laid down some grace marks for Olympic/WSC medalist but decided that 2004 Olympics being in distant past did not warrant grace marks (as if the experience is limited by 4 year life cycle of each Olympics).
"It's now interesting to hear the officials say that the matter was never brought up to their notice, was it not, really?," he asked.
Asked if he would consider competing if the federation agreed to relax the rules, Rathore said, "This is Indian sports. The federations are not known to do such things and I don't think they would do it for me."