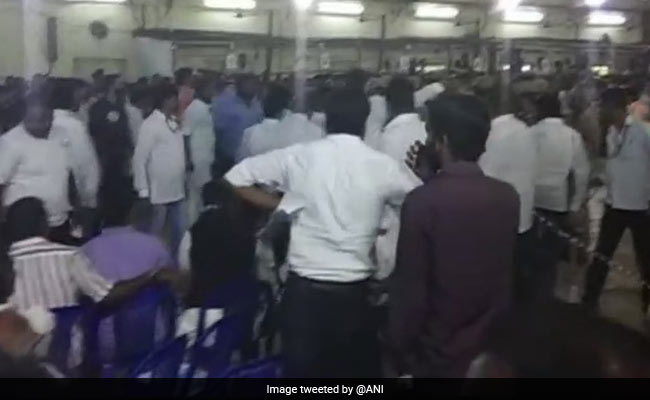 Highlights
Alleged altercation between supporters of Dhinakaran and E Madhusudhanan
The two rival sides charged each other with beating up counting officials
Peace was restored by the police, said an official
Chennai:
Counting of votes for the RK Nagar by-poll was temporarily disrupted this morning after an alleged altercation between supporters of Independent candidate TTV Dhinakaran and AIADMK's E Madhusudhanan.
"Altercation caused disruption," said a senior electoral official even as the two rival sides charged each other with beating up counting officials.
An official said that peace was restored by the police and that the second round of counting was underway.
"Police restored peace, Nothing alarming. Compilation of the second round going on," he said.
At the end of the first round, official AIADMK candidate Madhusudhanan was trailing sidelined party leader TTV Dhinakaran by about 2,600 votes.
Mr Dhinakaran is the nephew of VK Sasikala, the longtime companion of Jayalalithaa, who represented the seat in the Tamil Nadu assembly till her death in December last year.
Mr Dhinakaran was evicted along with Sasikala following a deal between AIADMK's factions led by Mr Palaniswami and former Chief Minister O Panneerselvam as they merged in August. Mr Dhinakaran and Ms Sasikala have challenged that decision and claim to lead the real AIADMK, though their support in the party is dwindling.
Jayalalithaa represented the seat twice and it is crucial for her party, the ruling AIADMK, to retain it to establish that Chief Minister E Palaniswami and his team are in control. The party fielded veteran E Madhusudanan, who held the seat earlier and has influence among Telugu people who have a sizeable presence in RK Nagar.
The by-election was shadowed by allegations of bribing voters with cash and gifts.
With inputs from PTI