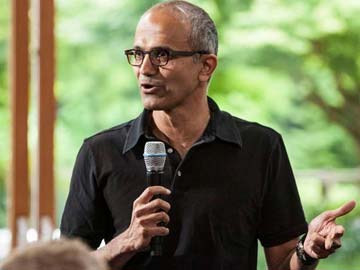 The day after he was picked as Microsoft's chief executive officer, Hyderabad-born Satya Nadella made a big announcement. "first commitment as CEO...i won't wait 4 years between tweets!" he posted. His last tweet, in 2010, was about Microsoft Bing.
(Satya Nadella: a cricket buff who is now Microsoft's CEO)
Here are 10 facts about the new top man at Microsoft:
Nadella, 46, is only Microsoft's third CEO in 39 years, taking over from Steve Ballmer, who inherited the job from founder Bill Gates in 2000.

He led the creation of Microsoft's Internet-based, or "cloud" computing services. (Satya Nadella's email to employees on first day as Microsoft CEO)


As he relinquishes the chairman's title, Bill Gates will stay on the board and assume a new role as technology adviser to Nadella. "Satya's asked me to step up, substantially increasing the time that I spend at the company," Gates said in a video statement

As a boy growing up in Hyderabad, Satya Nadella was on the cricket team of his school. The woman he would marry later, Anupama, studied at the same school. "I think playing cricket taught me more about working in teams and leadership that has stayed with me throughout my career," the newly chosen Microsoft chief executive said in his online company biography. (At Satya Nadella's school in Hyderabad, teachers recall a 'different type of boy')


"The one think I would say that defines me is that I love to learn," Nadella said in a video interview posted by Microsoft. "I buy more books than I read, or finish; I sign up for more online courses than I actually finish." He says he likes poetry - "it's like code."

Nadella says that for Microsoft to succeed, it needs to adapt to new trends. "While we have seen great success, we are hungry to do more," he said in an email to employees."Our industry does not respect tradition -- it only respects innovation." (Microsoft's journey: four decades, three CEOs)


Nadella's first tech industry job was with California-based Sun Microsystems. He joined Microsoft in 1992 to help build Windows NT while finishing MBA.

He has a bachelor's degree in electrical engineering from Mangalore University; master's degree in computer science from the University of Wisconsin, Milwaukee; master's degree in business administration from the University of Chicago.

"I used to fly to Chicago Friday nights, attend classes Saturdays and come back to Redmond to work during the week," Nadella said about getting his MBA while already working at the Microsoft office in Redmond, Washington.

In 2001, he became responsible for Microsoft Business Solutions' research and development, was promoted to leader of MBS in 2006. In 2008, he was named senior vice president of search, portals and advertising. In 2011, named president of Microsoft's server and tools business.