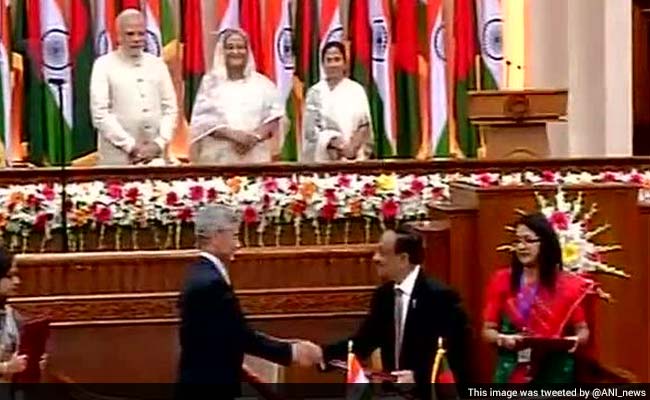 Dhaka:
Prime Minister Narendra Modi and his Bangladesh counterpart Sheikh Hasina today witnessed the exchange of instrument of ratification of the Land Boundary Agreement between the two countries in Dhaka. West Bengal Chief Minister Mamata Banerjee was also present.
Here are the latest developments in the story:
This seals a land pact signed in 1974 which will finally allow tens of thousands of people living in 161 border enclaves to choose their nationality. It will also permanently fix the contours of the 4,000 km India-Bangladesh border.

"The visit is a historic moment. We have resolved a question that has lingered since Independence. Our two nations have a settled boundary now," PM Modi said in Dhaka while addressing a press meet with Ms Hasina.

During his two-day visit to Dhaka, his first since he took office, PM Modi also signed a raft of deals. 22 agreements aimed at boosting trade and transport links, including deals on the movement of goods across borders and rail projects have been signed between the two sides.

PM Modi also announced a fresh US $2 billion line of credit for Bangladesh and promised quick implementation of the earlier line of credit of US $800 million and full disbursement of US $200 million.

Just an hour after PM Modi's arrival, top Indian conglomerates Reliance Power and Adani, signed outline agreements with Bangladesh's state-run electricity agency to invest some Rs. 32 thousand crores in the country's rickety power sector. Late this afternoon, the two Prime Ministers and Ms Banerjee flagged off two bus services. PM Modi and Sheikh Hasina also held talks this evening.

PM Modi and Ms Banerjee, the only chief minister accompanying the Prime Minister, met for about 10 minutes at the Dhaka hotel where he is staying. This was Mamata Banerjee's second meeting with Mr Modi in less than a month.

In a break from protocol, Sheikh Hasina received PM Modi as the airport this morning. After talks this evening, Sheikh Hasina hosted PM Modi to a banquet. Tomorrow, PM Modi will address the Indian community in Bangladesh.

The Bangladesh Prime Minister has steadfastly helped India curb various militant groups which used to take refuge in that country, besides coming down hard on radical Islamist outfits. Ahead of the visit, PM Modi lauded Sheikh Hasina for playing an "important role" in making bilateral ties "strong."

PM Modi will also meet Bangladesh's opposition leader Khaleda Zia, a meeting that will be closely watched by observers with the opposition leader's long-running calls for fresh elections having gained little traction.

India has already said that the long-pending Teesta water-sharing pact with Bangladesh will not be signed during this visit. But with Ms Banerjee standing by his side, PM Modi expressed confidence to have a "fair solution" to the Teesta and Feni river water sharing issues with Bangladesh "with the support of state governments in India".
Post a comment