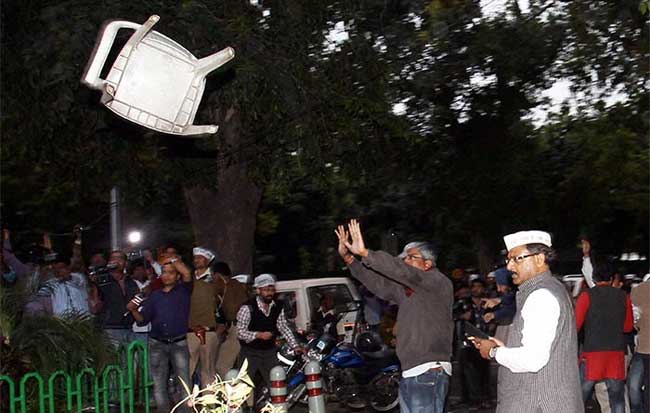 New Delhi: Arvind Kejriwal's Aam Aadmi Party or AAP instigated the violence that erupted into a full-blown riot at the BJP office, the Delhi Police has said today in a report to the Election Commission.
Here are the 10 big developments in this story:
Senior AAP leaders Ashutosh and Shazia Ilmi were questioned by the police today about the riot. (While at a police station, AAP's Ashutosh wrote this blog)

Both said they will cooperate with the investigation but refuted the allegations against AAP workers.
Ashutosh and Shazia Ilmi are among 18 members of AAP accused of rioting in a First Information Report or FIR. 14 of those people were arrested this morning and then released on bail.
Neither Shazia Ilmi nor Ashutosh were arrested. The police said that after reviewing video footage, it did not see the need to arrest Shazia, but has said it may question her again.
Ashutosh, who was seen scaling the gate of the BJP office, said he was trying to caution protestors to remain calm.
AAP leaders say the police must explain why not a single member of the BJP has been named in the FIR.
The egregious street battles began hours after AAP chief Arvind Kejriwal was briefly detained at a police station in Gujarat.
Chairs and stones were hurled from within the BJP office in Delhi. The party's leaders like Nalin Kohli say workers acted in self-defense.
In their report to Election Commission officials, the Delhi Police have said that AAP hurled stones at cops who tried to stop them.
Mr Kejriwal today reissued an appeal to his party to steer clear of violence. "I maintain that we should remain non-violent," he said.