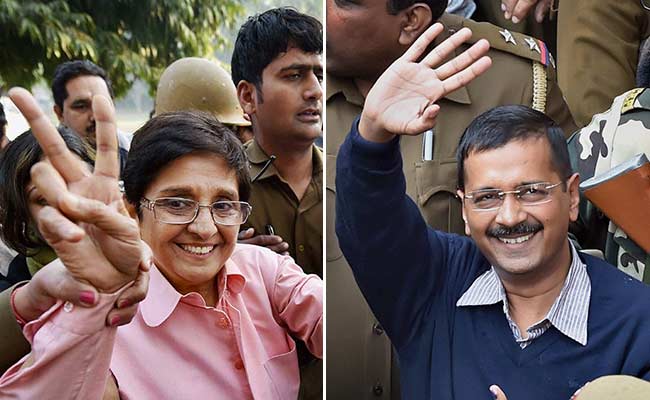 New Delhi:
67 per cent of 1.3 crore voters had been inked by 6 pm on Saturday, as Delhi looked set for a record turnout after a slow morning. Chief Election Commissioner HS Brahma said he expected a 65-70 per cent voter turnout today. 66 per cent had voted in the 2013 assembly elections.
Here are the latest developments
All parties have exhorted Delhi to come out and vote in large numbers. In what has been a bitterly fought election, all parties agree that Delhi cannot afford another hung assembly. In December 2013, no party got a majority.

Faced with a tough challenge from Arvind Kejriwal's Aam Aadmi Party, the BJP links its chances for a win in Delhi to a big voter turnout and party leaders joined PM Modi in appealing to voters to get out and vote.

Party chief Amit Shah held a meeting to discuss the stats and has called another meeting of top leaders this evening after polling ends at 6 pm.

In what is seen as a personality driven contest, Mr Kejriwal, 46, takes on Kiran Bedi, 65, for the top post of chief minister. They traded charges today accusing the other's party of offering cash and other inducements to voters.

Mr Brahma said the election commission has not received any report or complaint of money being distributed. He also said there were no reports of slow voting anywhere in the capital.

Arvind Kejriwal had alleged in a series of tweets, "Polling slowed down in many places. Long queues. Its taking 2 hrs in some places. Voters returning...As per rules, 3 voters r allowed inside booth at a time. They r allowing only 1 voter, which has slowed down voting...Even lunch breaks being taken which is against rules. EC shud immediately intervene."

Mr Kejriwal, who resigned as chief minister of Delhi after 49 days in office last year, has asked Delhi to give him another term. Ms Bedi is a former police officer and activist who is contesting her first election and has promised sweeping changes in Delhi.

The BJP has emphasised that today's election cannot be billed as a test of PM Modi's popularity. "It is not a referendum," said prominent Delhi BJP leader Aarti Mehra as she stepped out to vote this morning.

The Congress, which ruled Delhi for three straight terms, is widely expected to finish a distant third in the race once again. The party's Ajay Maken has, however, asserted that it cannot be written off just yet. In 2013, it managed to win only eight of 70 seats.

Last February, Arvind Kejriwal had resigned as chief minister after 49 days in office. After nine months of central rule, the Delhi assembly elected in December 2013 was dissolved and fresh elections were announced. Votes will be counted on Tuesday.