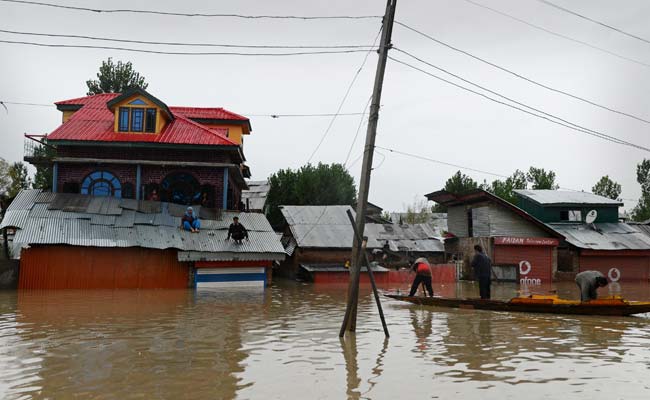 Srinagar: The flood fury in Jammu and Kashmir has worsened due to heavy rain over the past four days. 70 people have died so far and continuing rain and flooding has hampered the efforts to retrieve the bodies. Schools have been shut and the Army has been pressed into service to rescue those stranded.
Here's the latest developments in this story:
South Kashmir is the worst affected. Many areas of capital Srinagar are inundated and people are sending SOS messages asking for rescue teams and boats to shift them to safer places.

Over 100 houses and buildings have suffered damage in Rajouri and Udhampur districts, officials said. Some Vaishnodevi pilgrims were injured in landslides in the Trikuta Hills in Reasi district on Thursday, officials added. The yatra has been suspended.

The Army has been pressed into service to assist in rescue operations. Yesterday, the Army troops rescued 2000 people, but 45 are still missing and hundreds of others are stranded in remote areas of the state.
The 300-km-long Jammu-Srinagar National Highway is closed for second consecutive day today due to landslides at various places in the Jammu region.

All schools in Jammu and Kashmir are closed today, so children here will be the exception when thousands of students listen to Prime Minister Narendra Modi's Teachers' Day address live in their classrooms. After a cabinet meeting on Thursday, the state government decided to close the schools till September 7.

A bus carrying a marriage party fell into an overflowing stream yesterday in the Rajouri district. Four bodies have been recovered five km downstream from where the bus was washed away. 60 people are feared dead in the tragedy.

On Wednesday, a Border Security Force or BSF officer and five others were killed in landslides and flash floods triggered by heavy rain in the Jammu region.

Most rivers in the state are flowing above danger mark due to incessant rains. A flood alert has been declared across the state.

A control room has been set up at Ramban district headquarters and all Sub-Divisional Magistrates and Tehsildars have been asked not to leave their headquarters.

Prime Minister Narendra Modi condoled the loss of lives in Jammu and Kashmir floods on Thursday and sanctioned Rs 2 lakh for the family of those killed in rain related incidents and Rs 50,000 for the seriously injured.