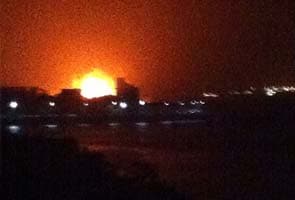 Mumbai/New Delhi:
In a huge setback to the Indian Navy, its INS Sindhurakshak submarine recently refurbished by Russia, exploded in the early hours of Wednesday at a high-security military dockyard in Mumbai. The search is on for about 18 sailors feared trapped in the burnt vessel, which is now partially submerged.
All about the submarine:
The explosion took place a little after midnight yesterday and it took nearly four hours to bring it under control. The navy has ordered a board of inquiry to investigate what caused the explosion.

INS Sindhurakshak, a 16-year-old diesel-electric submarine, was handed over to India in January this year after nearly two years of overhaul and refitting in Russia at the cost of 480 crore rupees. It was expected to serve the navy for at least 10 more years.

For the Indian navy, it's a major loss as no new induction has taken place in 16 years. While the navy has been aiming for more than 30 submarines, it has just 14 including the Sindhurakshak, which was considered a frontline submarine for naval defence.

Sindhurakshak is one of 10 "Kilo class submarines" constructed in Russia's shipyards for the Indian navy from 1985 to 2000. Kilo class vessels can travel at around a maximum 20 miles per hour at a depth of around 900 feet.

This class of submarines is designed and built for anti-submarine and anti-ship warfare, defending naval bases, securing coasts and sea lanes of communication, reconnaissance and maritime patrol operations.

In 2010, a sailor was killed when a fire broke out on the Sindhurakshak at Visakhapatnam port in Andhra Pradesh. The fire was blamed on an explosion in the submarine's battery compartment.

Later that year, the Indian Defence Ministry and Russia's Zvezdochka shipyard signed a direct contract for a complete overhaul and upgrade of the submarine.

The 2,300-tonne submarine was refitted with improved electronic warfare systems, control systems, and integrated weapon control system.

The Sindhurakshak was armed with the latest variant of a Russian-made submarine-specific cruise missile system capable of hitting targets more than 150 miles away.

India has been expanding its armed forces rapidly to upgrade its mostly Soviet-era weaponry and react to perceived threats from regional rival China.