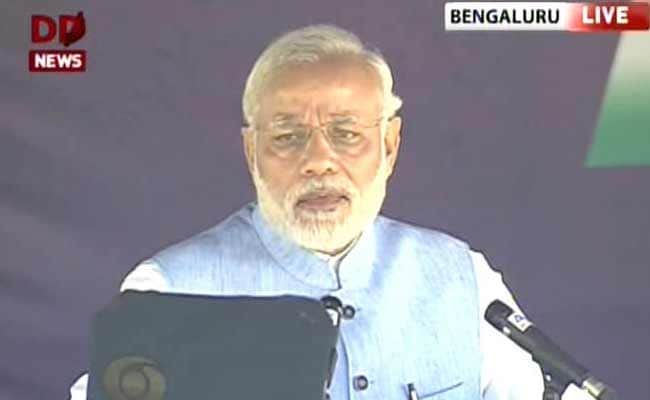 Bengaluru:
Prime Minister Narendra Modi today made a pitch for increasing defence preparedness and modernizing the forces, and said India's defence industry is at the core of his "Make in India" mission.
Here are 10 things PM Modi said
We do need to increase our defence preparedness. We do have to modernise our defence forces.

We do not want to be number one in importing defence equipment. 60 per cent of our defence equipment continues to be imported.

If we could raise the percentage of domestic procurement from 40% to 70% in next five years, we would double the output in our defence industry.

We are focusing on developing India's defence industry with a sense of mission. This is why it is at the heart of the "Make in India" programme.

Our defence industry will succeed more if we can transform the manufacturing sector in India.

We must involve our scientists soldiers, academia, industry and independent experts more closely in research and development. We need to go beyond the government for research and development, and also involve armed forces.

Frankly, our public sector needs to do much better than they are now. We have to make them accountable.

Our procurement procedures will ensure simplicity, accountability and speedy decision making.

We must ensure that our tax system does not discriminate against domestic manufacture in comparison to imports.

A strong Indian defence industry will not only make India more secure. It will also make India more prosperous.