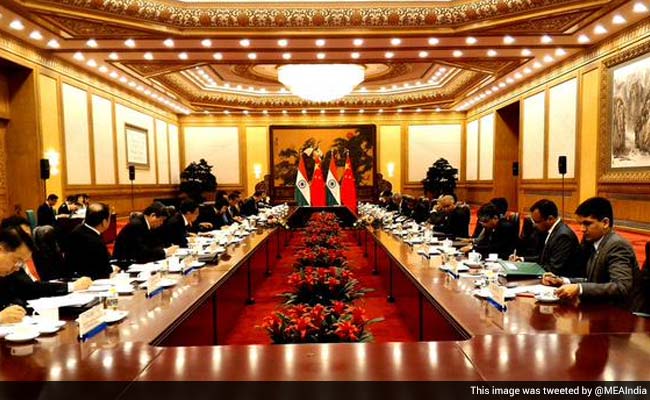 Beijing:
In Beijing today, Prime Minister Narendra Modi got down to business. He held talks with Chinese premier Li Keqiang, after which India and China signed 24 agreements.
Here are the latest developments in the story:
"We have a historic responsibility to turn this relationship into a source of strength for each other and a source of good for the world," PM Modi said in a statement after his talks with Mr Li.

PM Modi said they covered "all issues including those that trouble the smooth development of our relations," and added, "This is one of our most important strategic partnerships."

"We will serve as two engines for Asia," Mr Li said. Both leaders emphasised a commitment to peace on the border. They have also issued a joint statement.

In a seeming reference to India's concerns over China's plans for infrastructure projects in Pakistan Occupied Kashmir and on the stapled visas issue, PM Modi said, "I stressed the need for China to reconsider its approach to some issues that hold us back from realising the full potential of ties and I found the Chinese leadership responsive."

"PM @narendramodi dominates news coverage in China on day 2 of his visit," tweeted foreign ministry spokesperson Vikas Swarup this morning, attaching a collage of front page coverage in China of PM Modi's visit to Xian, the hometown of Chinese President Xi Jinping.

PM Modi began his three-day China visit on Thursday in Xian, where he was hosted by President Xi in a departure from protocol. Mr Modi was the first world leader to be hosted outside Beijing. Last year he had hosted Mr Xi in his home state Gujarat.

In Xian, PM Modi and President Xi held talks in a restricted, described by foreign secretary S Jaishankar as "substantive, positive talks...building on the chemistry between them which started last year." He said the talks were focused on "strengthening trust."

"We must work together to enhance mutual trust, control our differences and problems to avoid them interfering with bilateral relations," Mr Xi was quoted as telling PM Modi, according to a statement on China's foreign ministry website.

Prime Minister Modi's Xian visit was high on colour. His pictures from a tour of a museum with life-size terracotta statues of ancient warriors delighted fans on social media. In the evening he was given a spectacular Tang Dynasty welcome before a formal banquet hosted by President Xi.

Prime Minister Modi heads to Shanghai next, where he will interact with Indian and Chinese CEOs and address businessmen. In Shanghai he will also attend a reception hosted the Indian community in China.