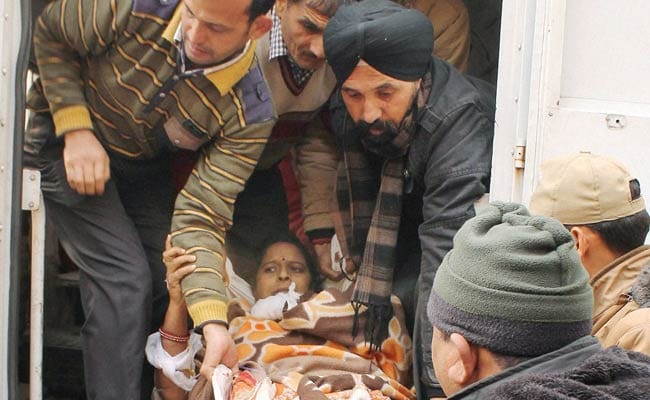 New Delhi: Two army jawans and a woman died and eight civilians were injured as Pakistani Rangers kept up the overnight shelling in Kathua and Samba districts in Jammu and Kashmir. Pakistan also threatened India with strong action. Five Rangers have died so far in retaliatory fire. Pakistan military claimed a child has also died.
Here are the latest developments in this story:
"If India doesn't understand the language of goodwill, we are fully capable using a language they do understand," Pakistan Defence Minister Khawaja Asif said today.
"Pakistan is our neighbour and we want good relations with all our neighbours. The Pakistan government should take steps to stop ceasefire violations from taking place," said Union home minister Rajnath Singh.

Pakistani troops resorted to unprovoked and heavy firing and mortar shelling on posts and civilian areas since 9.30 pm last night, news agency Press Trust of India reported.

The BSF retaliated and the exchange of fire stopped around 3 am for a few short hours. Pakistan again started shelling and firing, targeting civilian areas since 7 am.
Tori Devi of village Mangu Chack was killed in the shelling. Four persons, among them two women, were injured in Nauchak village in Kathua. Scores of houses suffered damage.
Already 1000 civilians have been evacuated in the border villages. Further evacuations are to be held and the authorities are waiting for the shelling to stop, Senior Superintendent of Police, Samba, Anil Magotra told news agency Press Trust of India.
The latest round of ceasefire violations by Pakistan, which started on New Year's Eve, has claimed two lives and injured nine persons. The other deceased is a BSF jawan. Five Pakistani Rangers died in retaliatory firing by India.
Pakistan foreign office wrote to External Affairs Minister Sushma Swaraj, alleging that India killed two Pakistani Rangers in cold blood after calling them for a meeting on the International Border on December 31. India has dismissed the allegations.
Last night, the security forces also thwarted a major infiltration attempt. Under the cover of shelling and firing, the Rangers tried to push a group of seven to eight heavily armed militants from Samba sector's Chor Gali.
The ceasefire violation comes barely two months after the last escalation which left 13 people dead and displaced 32,000 villagers. Over 550 incidents of ceasefire violations by Pakistan occurred in 2014. Nineteen people, including five jawans, were killed.