Hell hath no fury like an Indian scorned! Daily Mail, the British tabloid learnt that the hard way last week - they thought they had a scoop; instead, the reporter probably got an earful. Imagine the glee when he snapped a much-married and grinning Djokovic out on a dinner date with a "leggy brunette" whose suitably coy, head-tilted demeanor added to the mystery.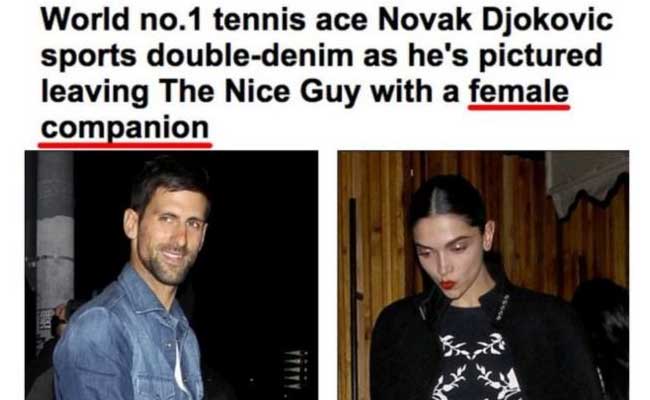 Instead, there was news for the tabloid. "Dear foreign media, by the way that leggy lass is our 'superstar' Deepika Padukone", roared social media, wringing its collective hands in delight. Daily Mail, which had referred originally to Ms Padukone, 30, as "female companion" and "impeccably dressed friend" was forced to republish the story with her name. To make amends, Daily Mail then could not stop showering the praises,
describing Deepika as one of the biggest Bollywood stars of her generation
as also one of the highest-paid.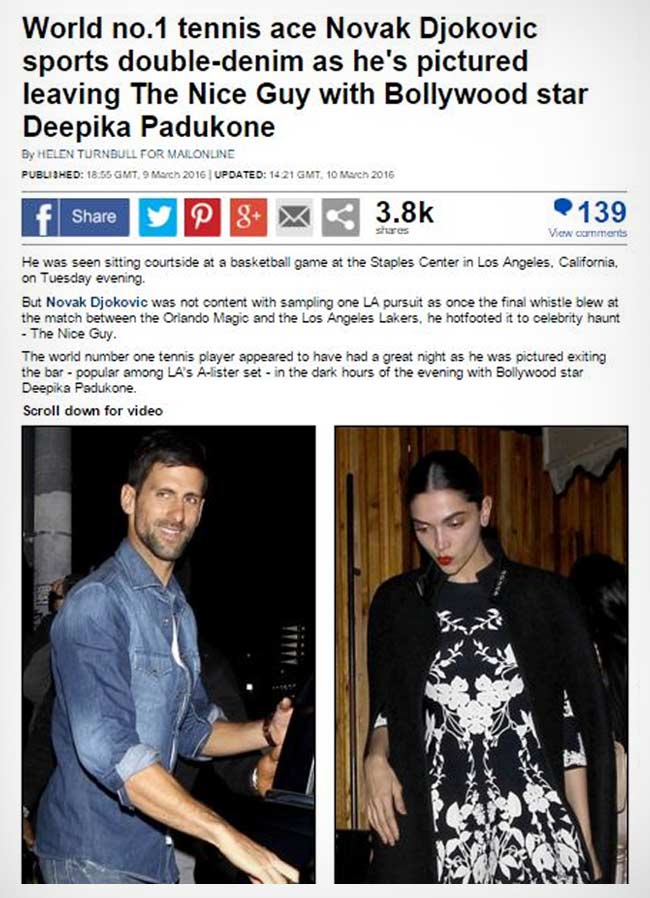 Twitter was unsparing. "Deepika leaves pub with mystery companion rumoured to be of Serbian origin"
tweeted @nowme_datta
(Naomi Datta)
Accounts like Faking News were more tongue in cheek, "Daily Mail fails to recognize Deepika Padukone. 2 minutes of silence for their Facebook page".
How dare someone have the temerity to not recognize our Deepika, seemed to be the belligerent sentiment. Well, neither does my husband, and he is (very) Indian. "Did they actually not know or just pretended to not know" - Twitter was even throwing in some conspiracy theories including that the actor's PR firm had released the photos and footage. I got this gem when I decided to join in the fun by baiting a few very angry fans online. "You are the enemy of Deepika, which rival's PR agency do you work for" I was asked. I was tempted to mention our other Hollywood export - Priyanka Chopra. But I chose to keep the peace because that's the other thing I have recently learnt: there is India-Pakistan cricket and then there is the Deepika-Priyanka "fan-off".
So much angst and outrage probably even took Deepika by surprise - after all, when you are having dinner with perhaps the finest tennis player of this generation, even an actor can have a fangirl moment. I can have my own conspiracy theory though and say that after an Oscar presentation vs a one-on-one dinner with Djokovic, the score is now deuce. Well done, Ms Padukone.
On a serious note - do we still have something of a colonial hangover, that unless the "whiteys" give us their stamp of approval, we are not accepted? In our tunnel vision, does our life really not extend beyond Bollywood stars and cricketers and whether they are known by other countries?
We run the risk of coming across as an insecure and complex people who become vitriolic the moment our ego is even slightly bruised. A couple of years ago, Maria Sharapova made the cardinal sin of not knowing Sachin Tendulkar. Sitting next to Beckham, Sachin had come to watch her play at Wimbledon. When a reporter asked her who he was, she simply replied "I don't know". We call him "God", so how dare a mere Russian who did not grow up watching cricket not know it's biggest star? If Sharapova hadn't recognized Messi, I would have also questioned her credentials as an athlete, but cricket is played only by a handful of countries.
Two years later, social media though is vindicated. "When you don't know who Tendulkar is (neither did his wife Anjali when she first met him), this is what happens," tweeted some after the tennis star admitted to failing a drug test. How many of these holding the baton of India's prestige know that the real hero or rather the superstar in the Padukone house-hold is actually the father?
Whether we admit it or not, our obsession with the West is still one-sided. Will Deepika Padukone or Priyanka Chopra succeed in Hollywood, only time will tell. For now, their talent and fame has taken them one step closer (at least to a dinner date the rest of the world is envying).
People like me are chewing on the fact that back home not many of us know a Telugu star from a Tamil one. Does anyone care?
(Jyotsna Mohan Bhargava is a former journalist who now divides her time between blogging and being a full-time mother.)
Disclaimer: The opinions expressed within this article are the personal opinions of the author. The facts and opinions appearing in the article do not reflect the views of NDTV and NDTV does not assume any responsibility or liability for the same.