As Eman Ahmed's doctors arranged for her to exit Mumbai's Saifee Hospital today, there appeared to be a last-minute complication - her sister, Shaimaa Selim, had refused to sign some papers, said the BJP's Shaina NC, who was present to brief the media on behalf of the ruling party.
There were nearly 15 to 20 reporters, many accompanied by camera crews, that were waiting for updates on the 37-year-old, who was departing Mumbai three months after she arrived in a specially refurbished cargo plane for stomach-stapling or bariatric surgery.
At 12 pm, the gates of the hospital were opened to the media. A scrum of reporters poured into the narrow reception area in the hospital in the heart of the city.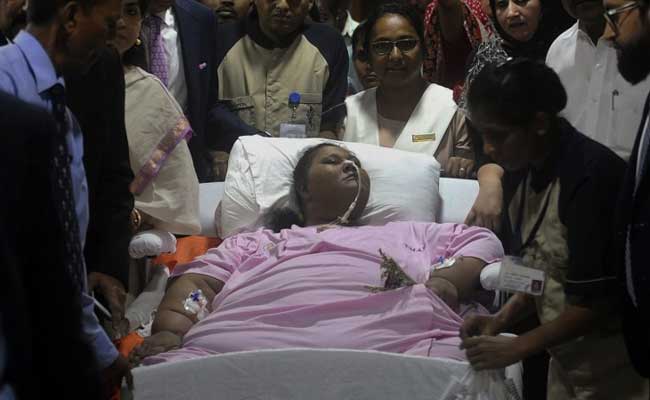 We were told that Eman, once considered the world's heaviest woman, would pass through this area on a special wheelchair to the ambulance that would take her to the international airport. It seemed a bit tight - so many reporters, the narrow passage - but we presumed security and hospital staff would ensure Eman would have enough space. Nobody wanted to see her dealing with cameras shoved in her face.
Word arrived that Eman was on her way down to the ground floor in the lift.
All good sense was abandoned. Cameras were trained at the far end of the corridor where the lift would touch down. Jostling for space, trying to give the best live output. You could hear reporters screaming, "Cut live, cut live."
Then began a 100-foot journey immersed in chaos for Eman on her wheelchair as she went from one end of corridor to the ambulance waiting outside.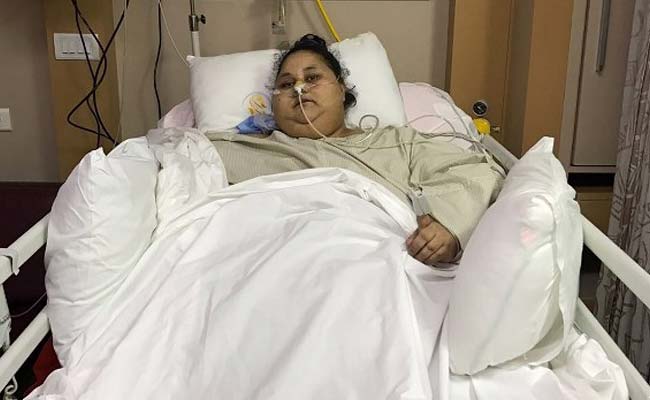 The cops, hospital security struggled to keep the camera crews from literally falling onto the patient, who now weighs 176 kilos.
She didn't say a word. She didn't smile. She didn't reprimand. In the melee, her sister Shaima got left behind. You could hear her screams "Wait, wait!" She was later pulled to the front to reunite with Eman.
Out front, with hospital staff intervening to manage some calm, Shaima reported that Eman had been given a kiss and a rose by the nurses that have attended to her. And then the ambulance drove away in a green corridor - a passage freed of traffic to enable a quick drive-through. Eman has left Mumbai in a passenger plane which saw some seats being removed for her. She will continue her treatment in Abu Dhabi, per her family's wishes.
Her send-off could have been more humane. We blew it.
(Anant R Zanane is Chief Correspondent, NDTV)
Disclaimer: The opinions expressed within this article are the personal opinions of the author. The facts and opinions appearing in the article do not reflect the views of NDTV and NDTV does not assume any responsibility or liability for the same.