It was almost 10 years after I first attended a Rahul Gandhi press conference that I landed at the Radisson Hotel in Ahmedabad yesterday.
A decade ago, he was at the end of his Discovery of India tour which saw him traveling to places like Kalahandi. We were part of the media contingent in Bhubaneswar in 2008 and were curious to find out that when he promised the Niyamgiri tribals that he'd fight for them as "a soldier in Delhi", did it mean changes to the government's Forest Rights Act or not? It was soon after he'd become a General Secretary within the Congress handling its youth wings and we were all very puzzled by him - unlike other politicians, he never chit-chatted, he always preferred speaking to the local media (but usually off-record and only to gauge the ground situation) and the most bewildering thing was that he really didn't care what you reported about him. "Can you please tell me this information because I would like my report to be accurate?'' you'd ask one of his aides about some banal information and they'd never get back to you because they knew RG didn't like to patronise
patrakars
.
Just like then, this week too the media was intrigued about the change we seemed to be witnessing in Rahul Gandhi. Was this really the same person who used to stick to the same stunted utterances rally after rally? How was the man who earlier kept looking at his notes suddenly eliciting easy laughs now? "Okay, I'm not going to tell you that I'll get you to land on the moon like they do. I can't say that, even though you may not like what I say,'' he told an appreciative crowd in Patan on his Gujarat campaign. It isn't exactly ROFL but then he brings it home with his emotive
"badla nahi badlav layenge
(We'll push change, not revenge)" sort of lines.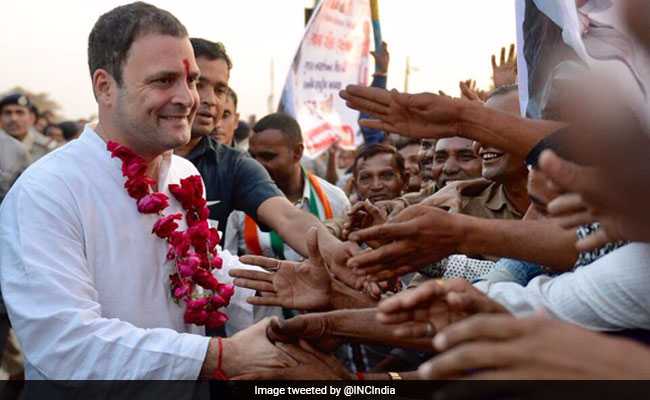 So, there we were, arguing our way through the security which again tagged local media as the only invitees. The choice of the venue being a 5-star hotel, the staff was laying out Perrier water for the speakers, but RG's aides quickly whisked it away, knowing that it would really upset the team's careful messaging. There are some old faces in his team one recognizes from the Odisha days like KB Byju, the former SPG staffer who has evolved to a larger role of working on election strategies. Then there are some new faces like Jitu Patwari, part of the new breed of Congress secretaries handpicked by RG. "There are about 10 of these secretaries who he has appointed that make up the core of his team. They are not
baba-log
, they are very low key, so much so that even many Congress people know little about them, but they are solid,'' said one insider. The ones we do know, like Jitin Prasada, part of the batch of the dynast
netas
who joined parliament with RG in 2004 now play a limited role - using their communication skills to address the press.
If I were hoping for some clues to this transformation in the months since RG's much-discussed speech in September at Berkeley, I was only half-satisfied after yesterday's interaction. He is still very awkward with the press. From his handshakes with the front row to removing the water bottle and glass laid out in front of him (and thereby forcing all others, like Ashok Gehlot and Bharatsinh Solanki to do the same). In the 30 odd-minutes that he took questions ("Ask me anything you want to'', "You can stand if you wish, or sit down, you can do whatever you want''), all I came away with was that Rahul Gandhi is really trying. He attempted genuinely to answer all our questions which was why when he got up to leave, he held back a couple of times and answered more queries. He tried to endear with humour - when someone said they work for "Gujarat Samachar Times", he said - "Seriously? GST?" (Some laughs).
If the press isn't eating out of his hands yet, the audience certainly isn't either, at least in urban areas. From Gujarat, where I've been anchoring a daily show with an audience of young people, there are hardly any who back Rahul Gandhi - they see him as too privileged and entitled and till recently, they found most of what he said unrelatable.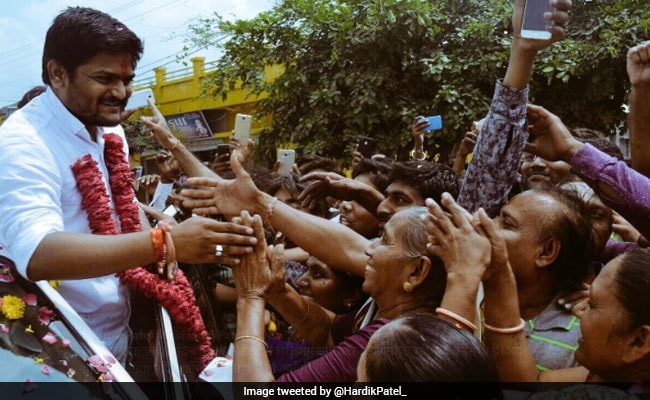 So the change could be this, I realize: it isn't just Rahul's evolution that we are looking at, it is also RG's new-found brothers-in-arms- Hardik, Jignesh and Alpesh. Pre-Gujarat, RG's allies were much like him. When he was on stage with Omar Abdullah at his swearing in in 2009, the media was very excited about two young politicians, but it was a bit of the same-old: two dynasts from privileged backgrounds working as elite rulers of the country. The other allies were similar - Supriya Sule, Tejashwi Yadav, Kanimozhi, Stalin and most recently, Akhilesh - all political family heirs. After the UP election, Rahul seemed to have got the message - it wasn't "UP
ko yeh saath pasand
(UP digs this combo)", people were rejecting old entrenched politics and politicians all over the country.
And just like RG has retained old guard Gehlot in his team, he's also gone back to the Old Congress philosophy - if you see something new and popular, the best way to survive is to co-opt it. And even though they've met just twice in secret, that's exactly what he did by embracing the Patidar leader. If Rahul Gandhi is the Perrier type, you can't get more street than Hardik Patel. The 24-year-old is the archetype of the rock-and-roll bad boy politician, allegedly even being caught in bed with booze and women. The Congress and Rahul Gandhi may be boring and staid, but after this episode, their new ally Jignesh Mevani coolly announces - "Hardik has done nothing wrong, sex is a fundamental right." It's as if Rahul has found an alter-ego he always wanted - the
aam aadmi
with mass popularity, the mass agitator just like the "
sipahi
of the tribals" he wanted to be, a leader drawing lakhs of crowds after spending months in exile, one who has reporters with mikes at the edge of their bikes' seats trailing him.
As Rahul becomes the 16th Congress President, that's his first sign of success. Even if Jignesh loses his election as some in the Congress feel ("because the Left-liberal idealism only goes so far"), even if Hardik doesn't manage to transfer those 2 lakh-strong crowds into winnable margins, RG can look back at this alliance and say - I did that, I broke that mould and did something new.
(Sunetra Choudhury is Political Editor, NDTV.)
Disclaimer: The opinions expressed within this article are the personal opinions of the author. The facts and opinions appearing in the article do not reflect the views of NDTV and NDTV does not assume any responsibility or liability for the same.
Get the latest election news, live updates and election schedule for Lok Sabha Elections 2019 on ndtv.com/elections. Like us on Facebook or follow us on Twitter and Instagram for updates from each of the 543 parliamentary seats for the 2019 Indian general elections.