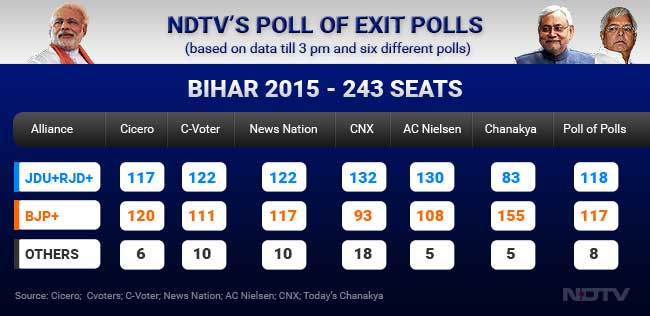 New Delhi:
The BJP and the 'Grand Alliance' put together to counter it are running neck-and-neck in Bihar's assembly elections, according to exit polls.
NDTV's poll of exit polls, based on six different polls, gave the slightest edge to the Bihar Chief Minister Nitish Kumar-led 'Grand Alliance' - it was seen getting 118 seats, with the Bharatiya Janata Party and its three regional allies getting 117 seats, in the 243-member Bihar assembly.
A party needs 122 seats to have a clear majority and form government in Bihar.
As voting ended in the fifth and final phase on Thursday, more exit polls gave an edge to the 'Grand Alliance' - which has Nitish Kumar's Janata Dal (United), Lalu Prasad Yadav's Rashtriya Janata Dal and the Congress in a strategic tie-up - than to the BJP.
Two - the CNX exit poll for NewsX and the AC Nielsen poll for ABP News - predicted comfortable win for Nitish Kumar.
Some, however, predicted a big win for the BJP-led alliance, most prominently the Today's Chanakya exit poll for News 24 channel, which has predicted that the BJP alliance will win about 155 seats, with the Grand Alliance getting only 83.
"Our leader is Narendra Modi and he will campaign for us everywhere. We will win some and lose some. We are winning in Bihar," said the BJP's Mukhtar Abbas Naqvi.
The record of pollsters is patchy, however, because the first-past-the-post system can exaggerate the impact on seat shares of swings in the popular vote. Party leaders will have a nail-biting wait until official results are announced on Sunday, November 8.
The five-phased Bihar election saw the highest voter turnout in 15 years, with women voting in larger numbers than men. Both camps have claimed that this will benefit them.
The Bihar vote is being viewed as a referendum on PM Modi's premiership after he addressed at least 30 campaign rallies as the face of the BJP, with the party deciding not to project a candidate for chief minister and seek votes for the PM Modi's development agenda.
A defeat for the BJP in India's third-largest state, home to 104 million people, would dent the PM's chances of building the parliamentary strength he needs to push through tax and labour reforms. His party is in a minority in the Rajya Sabha or Upper House, which is selected on the basis of parties' strength in state assemblies.
The Bihar election is also seen as a barometer of many key issues shaping the country's politics, including the changing roles of caste and religion and the rising aspirations of many Indians.
PM Modi's campaign started with a message of economic development but, as the race tightened, shifted to appealing religious and caste alliances in a region where these have been dominant themes.