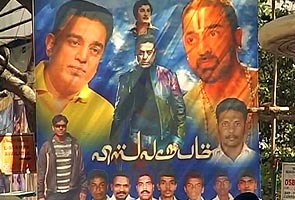 Bangalore:
The release of Kamal Haasan's film 'Vishwaroopam' has been put on hold in Bangalore. Fans who reached movie halls in the city expecting the film to be screened this morning were in for disappointment, as authorities sought more time to give theatres the go-ahead to screen the film.
The police commissioner chose to personally watch the film to know the content first hand. Some theatres had screened the movie yesterday but screening was stopped in one theatre at the intermission - it is clear that the police would rather be safe than sorry.
One movie-goer told NDTV, "We do not understand why this film is being banned when the censor board, a government body, has already cleared it." Another fan said, "It is very disappointing. It has been released abroad and has got good reviews, but we cannot see it here."
The mega-budget movie has stirred controversy with some groups protesting against the film's portrayal of Muslims. They claim that the movie is anti- Muslim.
The protests that began in Tamil Nadu have spread to Bangalore and Hyderabad as well. On Saturday, Justice K Venkatraman of the Madras High Court watched the movie to check if it indeed shows Muslims in poor light as has been claimed by the protestors. The court's verdict on whether the film can be screened in Tamil Nadu is expected on Monday.
Although the Central Board of Film Certification has cleared the Rs. 95-crore film, the Tamil Nadu government put its release on hold on January 23, citing law and order concerns.
Mr Haasan has described the ban as "cultural terrorism" and the movie as "Muslim-friendly." The actor-director is presently in the US to promote the film.