Highlights
Varthur is one of the city's two biggest lakes
White foam, caused by pollutants, sprayed drivers yesterday
Today, smoke covers the area after garbage was allegedly set on fire
Bengaluru:
After the froth, the flames - one of Bengaluru's two biggest lakes is following its pattern with a fire reported this morning, hours after foam shot up from the water and sprayed drivers in the crowded eastern part of India's Silicon Valley.
Varthur Lake saw a thick cover of smoke after a pile of garbage was reportedly set on fire near the inlet of the lake, according to residents.
That has proved to be an extremely dangerous violation of rules in the past - in February, the city's largest lake, Bellandur, turned into a danger zone after flames covered the lake, sending regular plumes of smoke into the sky. Firefighters were stunned by the extent of what they were combating. An investigation revealed that the fire was caused by garbage being lit.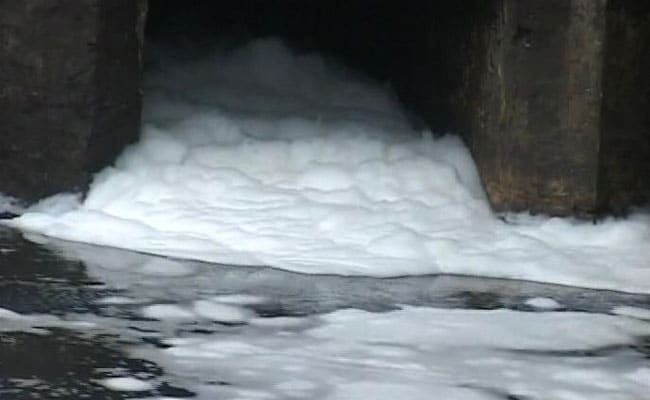 No problem, it happens every year, Karnataka's Chief Minister Siddaramaiah said yesterday about the toxic foaming at Varthur lake. Pre-monsoon rain has meant more froth in the past week and people driving past the lake on the arterial Whitefield Road have had a tough time evading the flying clouds of chemicals.
"The concerned minister as well as the BBMP (local corporatiom) are taking care of it. There's no problem...We received unprecedented rainfall this year," the Chief Minister said yesterday, adding, "We will solve it...it happens every year."
Last month, the country's top environmental court ordered urgent action to reduce the pollution that impels the lake to froth. CCTVs were set up to guard against trespassers ignoring a ban on setting waste on fire.
The lake's frothing for decades is in reaction to a steady stream of pollutants from factories in the area and untreated sewage.
Last Friday, the Karnataka government held a meeting to plan cleaning up the lake. But officials said the plan is likely to be implemented only after the government finishes work on the Bellandur lake.