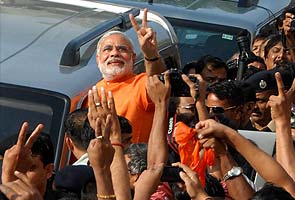 Ahmedabad:
Gujarat Chief Minister Narendra Modi, in saffron
kurta
and surrounded by hundreds of cheering supporters, said this morning that that the final phase of polling could see voter turnout "even bigger" than the record turnout of 70.75 per cent in the first phase of the Gujarat elections four days ago. It wasn't higher at 70 per cent, but enough to set an overall record for the state.
(Read: Record turnout in Gujarat, says poll panel)
Conventional wisdom has it that people turn out to vote in greater numbers when they want a change. The ruling BJP believes a high voter turnout will mean a hat-trick for Narendra Modi, the man who had emphatically won the last two elections in 2002 and 2007. The BJP says whenever there has been a rise in voter turnout in Gujarat, it is the ruling party which has gained. The party also believes the high turnout this year has been due to increase in women and young voters, who are traditionally pro-Modi.
Mr Modi, after voting in Ahmedabad this morning said, "I am thankful to all the voters. In these elections, people of Gujarat will make hat-trick by making the BJP win again. I am committed to 6 crore people of Gujarat and I live for them. What I am doing is for Gujarat and this is also service to the nation. Gujarat is also part of India." He had to shout to be heard over the cheering around him. He then rode his car standing on the footstep of the front passenger seat, holding up a V for victory as the vehicle moved slowly surrounded by an ocean of jostling supporters.
Apart from Narendra Modi, who is contesting from Maninagar, which has already handed him whopping wins twice, big names like controversial BJP candidate Amit Shah, Jaynarayan Vyas, Anandiben Patel and Nitin Patel were in the fray today. Debutante Shweta Bhatt cast her vote early. She is the wife of Sanjiv Bhatt, the cop who took on Mr Modi, and is contesting on a Congress ticket against Mr Modi in Maninagar.
Mr Modi - who also met senior party leader LK Advani after the latter voted in Gandhinagar this afternoon, the V still flashing - did not seem to be thinking of the challenge Mrs Bhatt poses to his re-election. Many poll pundits have predicted a third win for him in Gujarat 2012 and he is said to have his eyes fixed firmly on another election a year and a half away - the 2014 general elections. How well he fares on Thursday, when results are counted, could go a long way in deciding his role in those elections.
Today, central and north Gujarat voted. Mr Modi focused much attention on central Gujarat during his extensive campaign of over a 100 rallies, in a bid to offset likely losses in Saurashtra, where Keshubhai Patel's rebellion is expected to do the BJP some damage. Mr Modi needs to woo back tribal voters to secure this region.
(Gujarat polls: The full coverage)
In north Gujarat, the BJP had won 32 of the 47 seats in 2007. The worry this time are the Kadwa Patels; some members of the community have been convicted in riots cases since and the party worries they could go against the chief minister for that. The Congress' Shankarsinh Vaghela is looking to make some dents into Mr Modi's hold in this region.
(Read: Modi vs Keshubhai vs Vaghela: The RSS connection)
The Congress campaigned frenetically in the last two weeks, bringing out its top guns like party chief Sonia Gandhi and Rahul Gandhi, both of whom lashed out at Mr Modi's claims of development, saying that his "vibrant Gujarat" was a myth. Mr Modi, scarcely ever at a loss for words, hit back with some carefully aimed barbs.
Many have already begun casting the 2014 elections as a big Rahul vs Modi personality clash, and though the Congress has been at pains to deny this, Mr Modi made a direct comparison when he said last week, "Rahul Gandhi, my father was not the PM. He was not even a
sarpanch
. Still people love me."