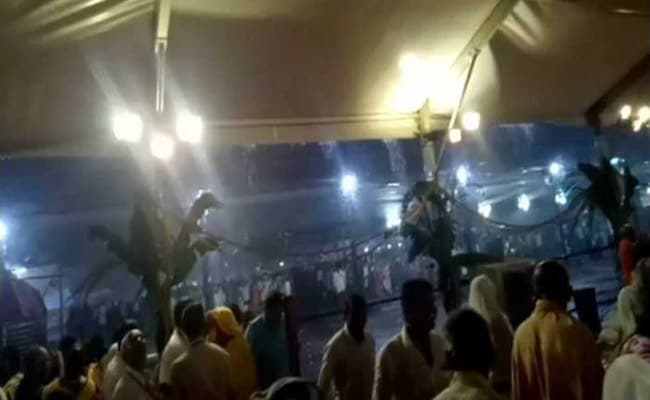 Kadapa, Andhra Pradesh:
Four people were killed and nearly 50 others were injured after a heavy rain and hailstorm hit Vontimitta village in Kadapa district on Friday night. The incident occurred when the tin sheets of temporary sheds collapsed on those performing the celestial wedding of Lord Rama as part of Rama Navami celebrations at the famous Kodandarama Temple.
While two people died when uprooted tin sheets fell on them, one woman died of heart attack and another of electrocution, according to police officials.
It occurred minutes ahead of the arrival of Chief Minister N Chandrababu Naidu to attend the celebrations and present silk clothes to the Lord Rama. The chief minister arrived over 90 minutes behind schedule because of rain and took part in the rituals.
The specially-erected pandals for the pilgrims were soaked with rain water and chaos was further compounded due to power outage.
One body was found late in the night and others were recovered after the pilgrims vacated the venue. 40 people of those injured were shifted to shifted to the Rajiv Institute of Medical Sciences in Kadapa for treatment.
The chief minister visited the hospital and met those undergoing the treatment. He also announced an ex-gratia payment of Rs 15 lakh each to the kin of those killed and Rs 3 lakh each to those seriously injured.
A senior police official said an inquiry is being conducted into the various lapses that led to the tragedy at the festival.
(With inputs from PTI)