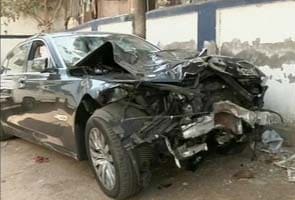 Ahmedabad:
Hours after the owner of a BMW was arrested for a hit-and-run in Ahmedabad, a second man who was riding a motorcycle when the black car hurtled into it at about 150 kms per hour died in hospital.
Rahul Patel, a 22-year-old college student, had been fighting for his life since the accident on Sunday night, which was caught in chilling detail by security cameras from a shopping complex near by.
Mr Patel was headed home after dinner with his friends when the accident took place. The man riding pillion on his bike, Shivam Dave, died that night.
The police this morning arrested Vismay Shah, who is the owner of the car and the son of a famous eye surgeon, Amit Shah. Police sources say he has confessed that he was driving the BMW. Till today, the Shahs had been insisting that their driver was at the wheel of the BMW, and had gone underground.
The BMW kept going after it hit the bikers, seen thrown high into the air on CCTV, and the car then crashed into a tree.
But an eyewitness for the accident, Lalit Gupta, told the police that the man who emerged from the wrecked BMW and spoke to him was fluent in English and well-dressed. He identified Vismay Shah in a police line-up this morning.
The police's investigation so far appears clumsy. Despite Mr Gupta's testimony, they took three days to question and arrest Vismay Shah. Experts point out that it will now be too late to run tests that would establish whether the alleged driver was drunk when the accident took place. The police says it has collected forensic evidence and fingerprints from the BMW, and these will be tested against those of Mr Shah.